California State Military Department

The California State Military Museum

A United States Army Museum Activity

Preserving California's Military Heritage

---

We Aim to Hit

The 251st Coast Artillery Regiment (Anti-Aircraft)
Regimental Reunions
During the latter pan of 1960, Bob Logan and Bryant Keamey, both of 1 HQ, called several former Regimental members living in San Diego and met with them a few days before December 7th of that year to commemorate old times and the attack on Pearl Harbor With what can only be described as a weird sense of humor, they chose a Japanese restaurant as their meeting place.
As these meetings led to larger attendance, the event began to become more formalized and chairmen were appointed to handle the increasing work load involved in finding former members and making meeting arrangements. Since 1966, what is now the annual "Pearl Harbor Reunion" has been held at the Marine Corps Recruit Depot Officers Club in San Diego on the Saturday immediately preceding December 7th of each year
Such annual reunions have evolved into a standard pattern, a noon-hour stag luncheon, sometimes followed by an evening luau for wives and guests.
The regiment's 2nd battalion in Long Beach has held a similar annual reunion in their city, choosing September 16th, the day of federal induction, as their meeting date. Former members of the Regiment are cordially invited to attend either or both reunions.
Memorial Plaques
During an annual reunion in San Diego, chairman Amos Lafaver (Regimental HQ) established a fund for the purpose of devising a memorial honoring the Regiment and its members for their participation in World War II. His efforts culminated during the 1977 reunion when chairman Bob MacDonald (1HQ) won approval of a drawing for a proposed plaque to be permanently located at three appropriate sites, to be determined by the members.
The next year; chairman Fergus Carmody (1HQ) completed arrangements for the casting of three 40-pound bronze plaques and for their installation at the San Diego National Guard Armory, the Long Beach Armory, and within the Fort De Russy Pearl Harbor Memorial building in Hawaii; each of these plaques bear the following inscription: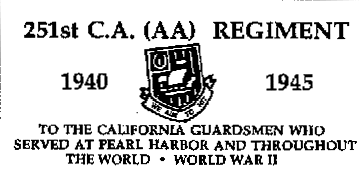 Mementos For The Future
Former members of the Regiment frequently ask where they can donate memorabilia pertaining to the Regiment and their period of service. As our numbers lessen, it becomes increasingly important to safeguard mementos of the past, so that they can be preserved for the future. The 251st Reunion Committee has no facilities for permanent storage of Regimental-related items and, therefore, the following sources are suggested:
The California Military Museum: 1119 Second Street, Sacramento, CA 95814

Telephone: (916) 442-2883

The Veterans Memorial Center of San Diego: 2115 Park Boulevard, San Diego, CA 92101-4792

Telephone: (619) 239-2300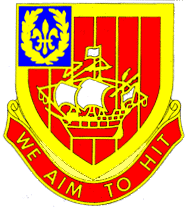 ---
[WELCOME] [LOCATION AND HOURS] [CURRENT EXHIBITS] [MG WALTER P. STORY LIBRARY] [SATELLITE AND PARTNER MUSEUMS]
Questions and comments concerning this site should be directed to the Webmaster