Historic Posts, Camps, Stations and Airfields

California Quartermaster Depot
The California Quartermaster Depot was activated under the control Quartermaster General on 15 April 1942 and was located at 15th and Clay Streets in Oakland. It was initally authorized by the Adjutant General in memorandum AG 681 California QM Depot (1-21-42) MR-M-C, dated 14 March 1942. This was confirmed by War Department General Order 18, dated 17 April 1942.
In Memorandum S30-4-42 dated 12 September 1942, Headquarters, Service of Supply (later Army Service Forces) redeignated the Tracy Quartermaster Depot a sub-depot known at the California Quartermaster Sub-Depot, Tracy.
In Office of the Quartermaster General Circular 83 dated 19 May 1943, the California Quartermaster Repair Sub-Depot was established, also in Oakland.
Effective 1 March 1946 the depot was discontinued. It mission and equipment was transfered for use in establishment and operation of Lathrop Army Service Forces Depot (later known and Sharpe General/Army Depot)
US Army Center of Military History Historical Data Card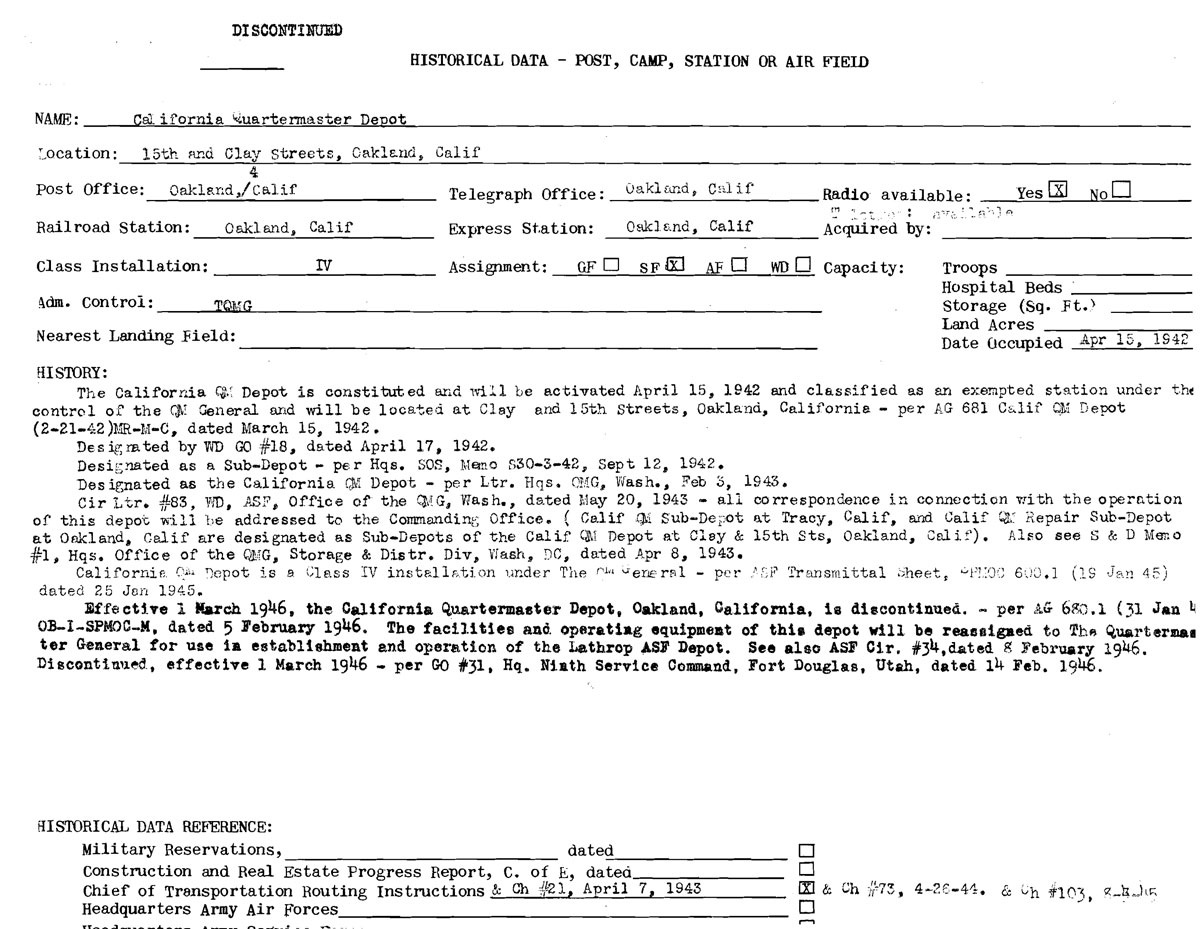 Army Units Assigned to the California Quartermaster Depot

Data Source

Date(s)

Unit(s)

Army of the United States Station List
1 June 1943

California Procurement District (ASF)

Quartermaster Corps Officer Replacement Pool (ASF)

Veterinary Corps Officer Replacement Pool (ASF)

Army of the United States Station List
7 April 1945

9190th Quartermaster Corps Technical Service Unit (California Quartermaster Depot) (ASF)

3991st Service Command Unit (Service Group, California Quartermaster Depot) (ASF)

California Procurement District (ASF)

Quartermaster Corps Officer Replacement Pool (ASF)

Detachment 15, 9091st Quartermaster Corps Technical Service Unit (Quartermaster Corps Officer Replacement

Pool) (ASF)

Veterinary Corps Officer Replacement Pool (ASF)

Detachment 21, 9950th Specal Catagory Officer Technical Service Unit (Veterinary Officer Replacement Pool) (ASF)

ASF - Army Service Forces Units
Search our Site!

View My Stats

Visitors since 8 December 1998
Questions and comments concerning this site should be directed to the Webmaster
Updated 23 June 2017