Historic California Posts, Camps, Stations and Airfields

Half Moon Bay Radar Site L-82

(Half Moon Bay Tactical Position)

by Dan Sebby, Military Historian, California Military Department

1943 aerial photograph of Half Moon Bay Radar Site.

On 10 April 1942, the War Department authorized the acquisition of land for use as an antiaircraft radar site. It was initially established under the Western Defense Command and Fourth Army and was known as the Half Moon Bay Tactical Position, Harbor Defenses of San Francisco. With radar being so secret, it was common to give the various sites description that masked their true mission. Sites were called "listening posts" or "tactical positions". Sites were also constructed to resemble farm buildings common to the coastal regions of California to further hide their true purpose. This deception continued throughout World War II to the point that the USACE report, War Department Owned, Leased and Sponsored Facilities, 31 December 1945, still referred to the Site as part of the Harbor Defenses of San Francisco and was not shown on any of the Army of the United States Station Lists published by the Adjutant General of the U.S. Army as late as 7 May 1946.
The site was initially garrisoned by an Army Air Forces unit, Detachment "C" of the 656th Signal Aircraft Warning Company which was subordinate to the San Francisco Provisional Control Group, San Francisco Fighter Wing, IV Fighter Command. Per the History of the San Francisco Control Group, 28 December 1943-28 February 1944, the mission of this and like units was to:
Provide an Aircraft Warning Service (AWS) for the wing area, plus display and tentative identification on wing operations board of all targets in the wing area as were reported by the AWS and direction finding station system of fighter control organization, ,operation of fighter control systems in the wing area, installation and operation of all other communications essential to above functions, establishment and operation if all Signal service functions for the wing area.
The Site was divided into two functional areas. The primary mission of the Site was the operation of a radar station known as L-82 and was located in the northern portion of the reservation. The secondary function was to operate a VHF Direction Finder station in the southern portion of the reservation called 4K5. Although manned by two separate detachments, some support functions, such as perimeter defense, were shared. (History of the San Francisco Control Group, 2 September 1945-28 February 1947).
On 1 May 1944, the Fourth Air Force adopted the Army Air Forces Base Unit (AAFBU) plan for its ground units. Under this plan, the San Francisco Provisional Control Group, and all of the subordinate Signal Aircraft Warning Companies and other units were consolidated into a single unit, the 411th AAFBU (San Francisco Control Group). In addition to the air defense radar mission, the 411th AAFBU also controlled Army Air Forces crash rescue boat detachments in Northern California. Deployments of the boats were coordinated with the individual radar stations tracking an aircraft in distress.
In Detailed Plan for the Retrenchment of Fourth Air Force Control Group Installation (Enclosure 1, History of the Fourth Air Force of the Continental Air Forces, 2 September 1945 to 20 March 1946), the Fourth Air Force decided to continue to operate both activities at Half Moon Bay with Site L-82 serving as an Identification Friend or Foe (IFF) and training station. The plan also recommended that the AN/CPS-1 radar "...be made a permanent installation if calibration indicates improvement over the present SCR-588-B equipment."
On 28 February 1947, all of the West Coast radar stations and control groups were consolidated under the 412th AAFBU (Western Control and Warning Group) with the former 411th AAFBU becoming Squadron "B" of that organization. Another reorganization took place on 20 May 1947 that resulted in the 412th AAFBU becoming the 505th Aircraft Control and Warning (AC&W) Group and Squadron "B" being redesignated the 636th AC&W Squadron. A detachment of that squadron operated the facilities at Half Moon Bay.
On 24 July 1947, the southern portion of the reservation that that was made up of several leased parcels was declared surplus to the needs of the Army Air Forces. With that, the Direction Finding Station 4K5 was deactivated and its equipment sent to Berkeley, California. (History of the 505th AC&W Group, 1 July-31 December 1947). This property was returned to the owners through lease terminations on 15 August 1948.
On 2 January 1948, the headquarters of the 636th AC&W Squadron moved from Hamilton Air Force Base to Half Moon Bay. The squadron conducted joint training with the Hamilton Air Force Base's 325th Fighter Group and oversaw dismantling of radar stations Olema, Gualala and Carmel, California. The History of the 505th AC&W Group, 1 July-31 December 1947 reported that AN/CPS-1, SCR-588-B, TPS-10 and AN/CPA-7 radar sets were present at Half Moon Bay as well as several power units. In January of 1948, the SCR-588-B radar set was dismantled and shipped to the Sacramento Air Materiel Area, McClellan Air Force Base.
On 15 September 1948, the 636th AC&W Squadron transferred to Kirkland Air Force Base, New Mexico leaving a detachment to operate an Air Defense Direction Center (ADDC). The squadron took the AN/TPS-10 radar set with them and left 2 AN/TPS-1B radar sets and 2 BN-2 IFF sets at Half Moon Bay.
The detachment at the Site was redesignated as "Detachment G" and operated an AN/TPS-10 (which could not be calibrated) and AN/CPS-1 radar sets, an AN/CPX-1 IFF set and numerous set. The unit also had subordinate detachments at Palos Verdes, California (Detachment "K".); Berkeley, California (Detachment "L") and La Jolla, California (Detachment M) who maintained those sites in a stand-by status. By that time, the quality of the Site's buildings, which were primarily "Theater of Operations" type, had deteriorated to the point that they were described as "deplorable" by the detachment's commander. (History of the 505th AC&W Group, 1 July-31 December 1948)
On 1 August 1949, Detachment "G" was reassigned from the 636th AC&W Squadron to the 637th AC&W Squadron at Moses Lake Air Force Base Washington. It was transferred again on 8 December 1949 to the 668th AC&W Squadron at Hamilton Air Force Base.(505th AC&W Group Historical Data, December 1949)
In February 1950, the ADDC was moved to Mather Air Force Base in Sacramento. With the move of that function the 668th AC&W left a detachment to operate the AN/CPS-5 radar set. In June 1950, the Site was incorporated into the temporary Lashup system with the installation of the AN/CPS-6 radar set. Once incorporated into the system, the site was given the identifier "L-38".
During this period, Half Moon Bay also served as an annual training site for Air National Guard AC&W squadrons. California's 148th AC&W Squadron is known to have trained from 5 to 19 August 1950 and was followed by the 145th AC&W Squadron who trained the 20 August to 5 September 1950.
In October 1951, Mill Valley Air Force Station (Site P-38/Z-38) atop Mount Tamalpais became operational, replacing the Lashup site at Half Moon Bay.At that time the U.S. Air Force declared the Site as surplus and turned over the 3 remaining tracts of land to the USACE for disposal. The three leases were terminated on 31 May, 30 June, and 28 October of 1952.
Building Inventory
| | | |
| --- | --- | --- |
| Structure Name of Function | Type of Construction | Status |
| Greenhouse | Unknown | Removed |
| Mess Hall | Wood Framed | In use as Cameron's In and Restaraunt |
| Barracks | Theater of Operations | Removed |
| Barracks | Theater of Operations | Removed |
| Recreation Building | Theater of Operations | Removed |
| Latrine | Theater of Operations | Removed |
| Bath House | Theater of Operations | Removed |
| Power House | Concrete | In use as storage for baseball field |
| Operations Building | Concrete | In use as storage for baseball field |
SCR-588 Long Wave Aircraft Detector and Ground Control Intercept Radar




Description: Fixed medium-range, long wave aircraft detector and GCI. Provides azimuth, range, and altitude data. Type HR and PPI scopes.

Uses: To give continuous plan position and accurate relative height of enemy plane and friendly fighter plane for GCI. Set can also be used for early warning and to give increased coverage at low angles of search. IFF equipment RC-188 is used. When operating as GCI, VHF equipment SCR-624 is required.

Performance and Siting: Maximum range on a medium bomber, with set on flat sea level site:


| | | | | |
| --- | --- | --- | --- | --- |
| Altitude, feet | 1,000 | 5,000 | 10,000 | 25,000 |
| Range*, miles | 20 | 50 | 95 | 105 |

*Range of PPI limits GCI operation to about 45 miles.

When operating as GCI, set must be sited so that a flat unobstructed surface extends at least 1/4th mile in the height-finding sector. Good GCI sites are extremely rare. For early warning, sets should be sited between 100 and 1,000 feet above an unobstructed surface.


Transportability: Set is packaged for shipment in 55 units, weighing a total of 54,000 lbs. Largest unit measures 15.3' x 3.8' x 1.8'. Total shipping space is 3500 cu. ft.

Installation: Requires a weatherproof building approximately 20' x 40' for housing radar components and a building approximately 20' x 20' for power units and switchboard. A 25' tower on concrete footing is required for support of antenna. Buildings and tower can be built by Engineers in about 3 weeks. Radar can be installed by 5 men in 2 weeks.

Personnel: 8 men are operating crew. For 24-hour operation about 54 men are required to run radar, communication radio, and camp.

Power: 4 KW at 230 volts and 1 KW at 115 volts, from three PE-198 electric diesel units, supplied with set. (Two units operate simultaneously). Fuel consumption is 21/2 gals. of Diesel fuel oil per hour.

AN/CPS-6 Radar

The AN/CPS-6 was a medium-range search/height finder Radar used by the United States Air Force Air Defense Command.

The AN/CPS-6 was developed during the later stages of World War II by the Radiation Laboratory at MIT. The first units were produced in mid-1945.

General Electric developed and produced the A-model and subsequent B-model at a plant in Syracuse, New York. The unit consisted of two antennas. One of the antennas slanted at a forty-five degree angle to provide the height-finder capability.

Initially, the radar was designed to detect fighter aircraft at 100 miles and 16,000 feet. The radar used five transmitters that operated at S-band frequencies ranging from 2700 to 3019 MHz. It took twenty-five people to operate the radar.

An AN/CPS-6 radar was installed as part of the Lashup Radar Network at Twin Lights, New Jersey, in 1949 and proved capable of detecting targets at ranges of eighty-four miles. The first units of the follow-on 6B radar set were ready for installation by mid-1950. Fourteen 6B units were used within the first permanent network.

A component designed to improve the radar's range was added in 1954. Initial tests showed the 6B unit had a range of 165 miles with an altitude limit of 45,000 feet. One radar unit and its ancillary electronic equipment had to be transported in eighty-five freight cars. The Air Force phased out the 6B model between mid-1957 and mid-1959.

The AN/FPS-10 unit was essentially a stripped down version of the AN/CPS-6B. Thirteen of these units served within the first permanent network.

Site Map of Half Moon Bay Radar Site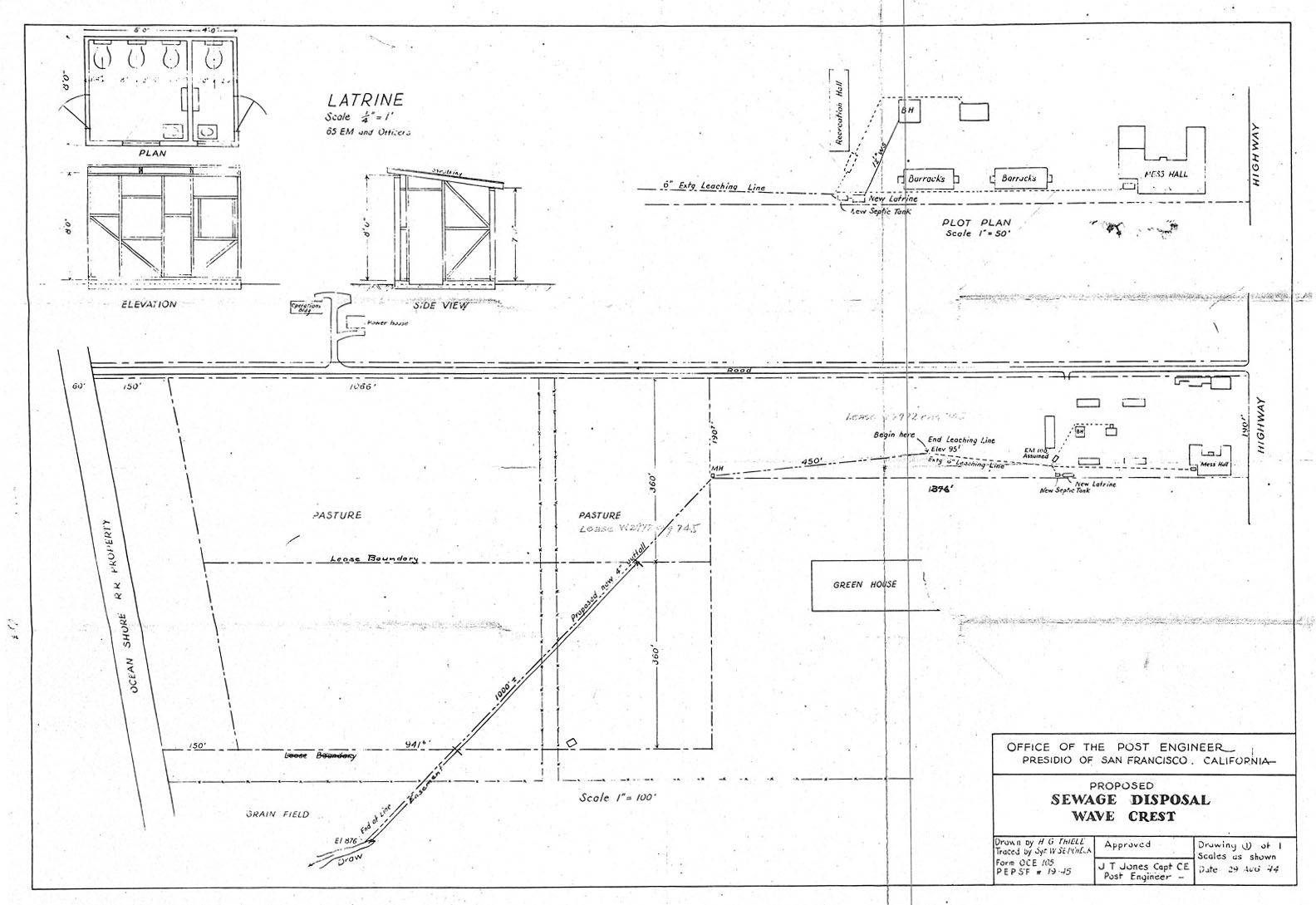 Search our Site!
Questions and comments concerning this site should be directed to the Webmaster
Updated 8 February 2016