Historic California Posts, Camps Stations and Airfields

Marine Corps Auxiliary Air Station, Mojave

(Marine Corps Air Station, Mojave; Naval Air Station, Mojave)

MCAS Mojave, 1943


MCAS Mojave

by M.L. Shettle
Mojave, located 85 miles north of Los Angeles in the Mojave Desert's Antelope Valley, began as a railroad junction and depot of the Southern Pacific in 1876. In the early 1930s, Kern County established an airport one-half mile east of the town. In 1935, the airfield consisted of two dirt runways, one oiled, with no servicing or fueling available. The 1940 Census of Mojave indicated a population of 761 souls. The CAA selected this airport to be modern ized for National Defense during 1941. Kern County agreed to the plan, accepting a provision that the airport could be taken over by the military in the advent of war. Work began late in the year on two 4,500 x 150-ft. asphalt runways, taxiways, and a small parking ramp.
In March 1942, the Marines received permission from the Interdepartmental Air Traffic Control Board to develop air stations at Mojave and at Rosemond, 14 miles to the south. With the CAA Project at Mojave already underway, the Rosemond project was put on hold and resources concentrated at Mojave. The erection of temporary wood build ings for 2,000 men to support one Marine Air Group began in July plus the addition of a third runway and extension of the existing runways. LCol. John Holmberg, the base's prospective Commanding Officer, and his staff arrived in October to organize the station. Since no buildings had yet been completed, offices were set up in the Mojave Grammar School's gymnasium. The station commissioned on January 1, 1943, even though many of the facilities were still incomplete. That same day, Marine Base Defense Air Group (MBDAG) 44, VMF-225, and VMSB-236, also commissioned. From the outset, the station's 150-ft. wide runways caused problems. Inexperienced pilots, especially those in F4F Wildcats, lost control on landing and departed the runway. Many aircraft were damaged beyond repair. Fortunately, no serious injuries resulted. The SBD equipped VMSB-236 departed for Ewa on April 8th. July saw the forming of VMF-218 and the arrival of VMO-251, both flying the F4F at that time.
The station proper was initially equipped with four NEs (Piper J-3 Cubs) and one SNC Curtiss Falcon that were used for proficiency flying and as station hacks. The Marines were particularly hard on the NEs. In July, a VMF-225 pilot lost control of his F4F-4 Wildcat on takeoff. The aircraft crashed through the side of a hangar and exited the main oor, demolishing two of the NEs. Miraculously, no one was even hurt! The next month, one of the two remaining Cubs departed on a local flight never to return. Two days later, the charred wreckage and remains of the two occupants were found on nearby Mt. Soledad.
Mojave received its first multiengine aircraft when six PB4Y-1 Liberators of VMD-251 arrived on August 1st. In October, a major reshuffle of the station's squadrons occurred. VMF-225, now equipped with Corsairs, departed for Ewa. VMF-121 and 124 arrived from combat at Guadalcanal for re-forming and re-equipping. The next month, the first female Marines arrived and took over support jobs that included Link trainer instructors and tower operators. By the end of the year, VMF-218, VMF-251 and VMD-254 transferred as VMF-213 arrived from a combat tour for reorganization.
Mojave became one of the training centers of Marine squadrons slated for assignment aboard aircraft carriers. In January 1944, VMSB-332 arrived for a three-week stay with its SBD-5s. The three fighter squadrons at Mojave had all transitioned to the Corsair that now included F4U, FG, and F3A versions. VMF-451 and VMF-452 commissioned and commenced training for deployment aboard aircraft carriers. In the spring, work began on enlarging the station to accommodate an additional air group and improving the airfield. The runways were widened to 350 ft. and the east-west runway extended to 5,900 ft. The parking ramps were resurfaced and a new squadron area provided. In the early morning hours of May 23, the aircraft maintenance hangar, mainly occupied by Marine Service Squadron 44, caught fire. Despite prompt response by the Fire Department, the lack of a fire extinguishing system resulted in the razing of the all-wood building. Fourteen aircraft, including the last of the stations original NE Piper Cubs, and several R-2800 engines were destroyed. The stations first Air Warning Squadron, AWS-8, arrived in June for duty with MAG 44. During June, VMF-213 set a new daily record for Marine West Coast fighter squadrons by flying 272.2 hours with the squadron's 21 aircraft averaging 13 hours each. All news was not good. On June 11, an SBD-6 spun in 40 miles to the north east, killing the pilot and the gunner. Six weeks later, how the inherent dangers of aviation can smite the most experienced and competent airman was demonstrated. Captain Edward Shaw, an ace with 13 victories, was killed when he failed to recover from a dive in his Corsair. VMF-121 departed Mojave in July and went on to be the top scoring Marine squadron of the war. The next month, VMF 324 spent two weeks at the station for rocket and heavy bomb training.
By September, the enlargement of the station reached completion as Marine Air Support Group (MASG) 51 moved aboard from Cherry Point as VMF-124 departed. Along with MASG 51 came VMF-511, VMF-512, and VMO-351. Three months later, VMF-513 and VMF-514, also attached to MASG 51, arrived. MASG 51 and its Corsair equipped squadrons had been training on the East Coast for Project Danny, the planned attack of V-1 launch sites in France with 11.75 in. Tiny Tim rockets.
After the cancellation of Project Danny, these squadrons began training for deployment aboard aircraft carriers in the Pacific. Three of the squadrons were in a high state of readiness, so their stay at Mojave was short with VMF-511 and VMF-512 going aboard their carriers in December. VMF-214 and VMF-221, two other carrier-destined squadrons, spent a short time at Mojave during December. VMF-451, 452, and 513 departed for carrier duty in January. Meanwhile MBDAG 44 was redesignated MAG 44 and moved to Ewa.
During the fall, a Corsair lost its brakes and rammed the operations building. Although the damage was substantial, no personnel were injured. Another Corsair crashed on a strafing run in October killing the pilot. The same month, a fire of undetermined origin destroyed the transportation building of one air group. In December, a pilot was killed during a test hop. A few days later, a Corsair and a trainer had a midair collision. Although both aircraft were lost, the pilots managed to parachute safely.
During the first of 1945, predominant squadrons present were Marine torpedo/bomber squadrons destined for duty aboard Navy escort carriers. The first of these squadrons, VMTB-132, was on board from December 15, 1944, to January 16, 1945. The second, VMTB-144, arrived on December 20. VMTB 454 was assigned to Mojave in January, followed by VMTB-622, 623 and 624 in February. Fighter squadrons were still present, as VMF-321 joined VMF-514. By March, Mojave's squadrons were not operating a single Corsair, but instead were equipped with TBF/TBM Avengers and F6F Hellcats. On April 30, 1945, VMF-124, the Marine's first Corsair squadron, returned to Mojave after its second combat tour for reorganization and training in F6F Hellcats. In May and June, VMTB-623, 624, and MASG 51's headquarters moved to Santa Barbara; however, Service Squadron 51 remained at Mojave supporting the squadrons present. In June, a VMF-124 pilot lost control of his F6F during FCLP practice and hit a radio truck, killing two of the truck's operators. Another F6F and its pilot were lost in a July crash during skip-bombing practice. Two more Air Warning Squadrons spent a few weeks at the station during the summer. In June, a TBM crashed killing the pilot and the two crewmen. That month and the next, VMTB-144 and 454 moved to Santa Barbara. VMTB-151 and VMF-225 arrived in July and were the only squadrons present at war's end. Squadrons from Santa Barbara also deployed TDY for rocket and bombing training.
Santa Barbara's VMF-213, here during the summer for rocket qualification, apparently was not very happy with hot Mojave when compared to beautiful and cool Santa Barbara. They flew from 0500 to 2030 on the last day to, as they put it: "To get it over with." VMF 213 fired a total of 1,192 rockets with 63.5% hitting the 20-ft. bull's-eye. VMF-124 and VMTB-622 transferred in September. Also from February 1 to July 1, 1945, four CASDs (Carrier Aircraft Service Detachments), 6, 7, 8, and 13 were formed for duty aboard escort carriers with Marine Carrier Air Groups. CASDs were similar to the Navy's CASDs.
Mojave was an excellent training facility. The desert location provided VFR flying conditions most of the time, non-congested airspace, and nearby bombing and gunnery ranges. As an example, MAG 44 managed to fly 11,277 hours in March 1944 - a feat that would have been impossible at El Toro or Santa Barbara. The downside was occasional high winds that made flight operations difficult and unpleasant high temperatures during summer months; however, with an elevation of 2,787 ft., temperatures at Mojave were more moderate when compared to El Centro. The station was quite isolated. The nearest liberty town of any consequence was Lancaster, 25 miles away. With a two-day pass, trips to Los Angeles were possible. Off base housing in town was in short supply and many officers traveled 20 miles to the resort of Tehachapi to find accommodations.
MCAS Mojave encompassed a total of 2,312 acres with three runways - the longest 5,900 ft. No outlying fields existed, although squadrons used the Army airfield at Bishop, California for FCLPs. The two wooden hangars measured 160 x 122 ft. and 122 x 80 ft. Barracks were available for 2,734 male and 376 female personnel while civilian employees totaled 176. Peak utilization occurred during late 1944 and early 1945 with 145 aircraft on board. At that time, station aircraft consisted of two GB Beech Staggerwings, two GH Howards, two SNJs, one JRF Grumman Duck, and one NE Piper Cub. Mojave's 75 x 156-ft. swimming pool, the largest in the State of California, was used for training as well as recreation. The 900-seat auditorium hosted several USO shows during the war including Bob Hope, Marilyn Maxwell, Frances Langford and others. During the course of the war, 29 aircraft squadrons, four CASDs and three Air Warning Squadrons passed through the station. Investment in Mojave exceeded $7 million.
The Marines decommissioned Mojave on February 7, 1946 and an NAS established the same day. The Navy used the station for drone operations before closing it on January 1, 1947. For the next four years, the base stood in caretaker status. The Korean War necessitated the activation of Mojave as an auxiliary landing field to El Toro on October 18, 1951. Complement consisted of a crash crew and a security detachment that supported gunnery, rocket, bombing, and FCLP training. The station facilities were reconditioned and a runway extended to accommodate jet aircraft. On December 31, 1953, Mojave recommissioned as an MCAAS. Known as an Advance Gunnery Range, squadrons from El Toro used the facility for ordnance training and during eriods of poor weather at El Toro. No squadrons were permanently stationed there. Marine Reserve units from across the country also deployed to the station during their two-week summer active duty. In 1954, Chance-Vought leased hangar space for the initial testing of the F8U Crusader.
Station personnel totaled 400 military and 200 civilians. Aircraft assigned were one R4D, one SNB, and two HOK rescue helicopters. One pastime enjoyed by some of the station s personnel was prospecting in the nearby hills. One lucky soul struck it rich, enjoying a $16,000 a year income - a tidy sum in the 1950s!
A major realignment and closing of U.S. military bases took place in the late 1950s. The Marines closed Mojave in January 1959 moving to the former Vincent AFB at Yuma, Arizona where they remain to this day. Since departure of the Marines, Mojave airport has grown into a major test and manufacturing center for the civilian and military aircraft industry. Among the tenants are the Rutan Brothers, a General Electric aircraft engine facility, Quickie Aircraft, and a civilian test pilot school that has students from all over the world. The dry desert location also served as an airliner storage location during the doldrums of the airline industry. At the peak, lmost 200 airliners were in storage and at one time included brand new Boeing 747s. Because of the airports proximity to Hollywood, the location was used for several motion picture sets.
My wife and I paid a visit to Mojave in February 1998 and discovered that it is still a bleak railroad town. My initial impression, after arriving late at night is not a good one. Mojave seems to have been a perfect place for the Marines to do their Devil Dog and Jarhead thing without offending, bothering, or annoying anyone. Picking the best looking motel in town, we were awakened at least six times during the night as trains noisily trudged through. The next morning Mojave is redeemed! Arriving at the airport, the first aircraft spotted is a retired Delta L1011 that I have flown. I met with the airport manager, Dan Sabovich and informed him of my project. Mr. Sabovich graciously took me on a personal tour of the airport in his flagged car that included crossing the runways into the aircraft storage area. Mojave is a virtual aviation museum with various projects and aircraft present. Seven more ex-Delta L-1011s that I have flown were present. One concern at the airport was modifying old F-4 Phantoms into drones. An F-4 took off on a test flight, a very rare site these days, as we sat in the car near the side of the runway. Among the aircraft spotted were: a Boeing 707 and 747s, a C-133, several B-66s, a Convair 880 and 990, one MIG 15 and two 21s, and a beautiful restored Hawker Sea Fury among others. The visit was ended by climbing up into the 56 year old original tower and surveying the entire airport - altogether, a very gratifying and enjoyable morning!
Copied with the permission of the author from United States Marine Corps Air Stations of World War II.
MCAS Mojave

by Justin Ruhge

Mojave was selected as one of five Marine Corps Air Stations in California because of its remote location and good year-round flying weather. Using the Kern County Municipal Airport as a nucleus, Acting Secretary of the Navy James V. Forrestal, with the assistance of Marine Corps Colonel William Fox, approved the purchase of 1,546 acres for $12, 435 on October 3, 1942. Construction had begun on July 1, 1942 of ninety buildings including living quarters, a mess hall and three runways. Lieutenant Colonel John S. Holmberg, USMC, was the first Commander who arrived on October 6, 1942 to organize the station. On January 1, 1943 the station was commissioned.




Onboard at the time were a scout bombing squadron and a defense air group. The first Marine Air Reserve Women arrived on November 29, 1943. The fast-growing station population was accommodated with the construction of a village of Quonset hut housing.


By January 1, 1943 there were thirty-two squadrons under training. By early 1944 all tactical squadrons aboard were fighter squadrons flying the F4F Wildcat.


In April 1944, the Aviation Woman Reserve Squadron was activated at the field with the arrival of 14 officers and 233 enlisted women.


In August 1944 training began for both Army and Navy men on an amphibious training program dealing with air-ground support problems.


On September 10, 1944 Marine Air Group-52, comprised of a headquarters Squadron and Fighter Squadrons 511 and 512 and Observation Squadron 351, came on board.


On May 31, 1945 Colonel Frank D. Weir commanding Marine Air Group-51 departed for Santa Barbara to set up group headquarters at that station.


During the winter of 1944 various carrier air groups from El Toro and Santa Barbara used Mojave to complete their training syllabus.


On September 6, 1945 a station "roll up" program was initiated. Mojave was finally inactivated on January 2, 1947. It was declared excess on June 18, 1947 when the field was leased to Kern County

Extract, January 1945 US Army Air Forces Directory of Airfields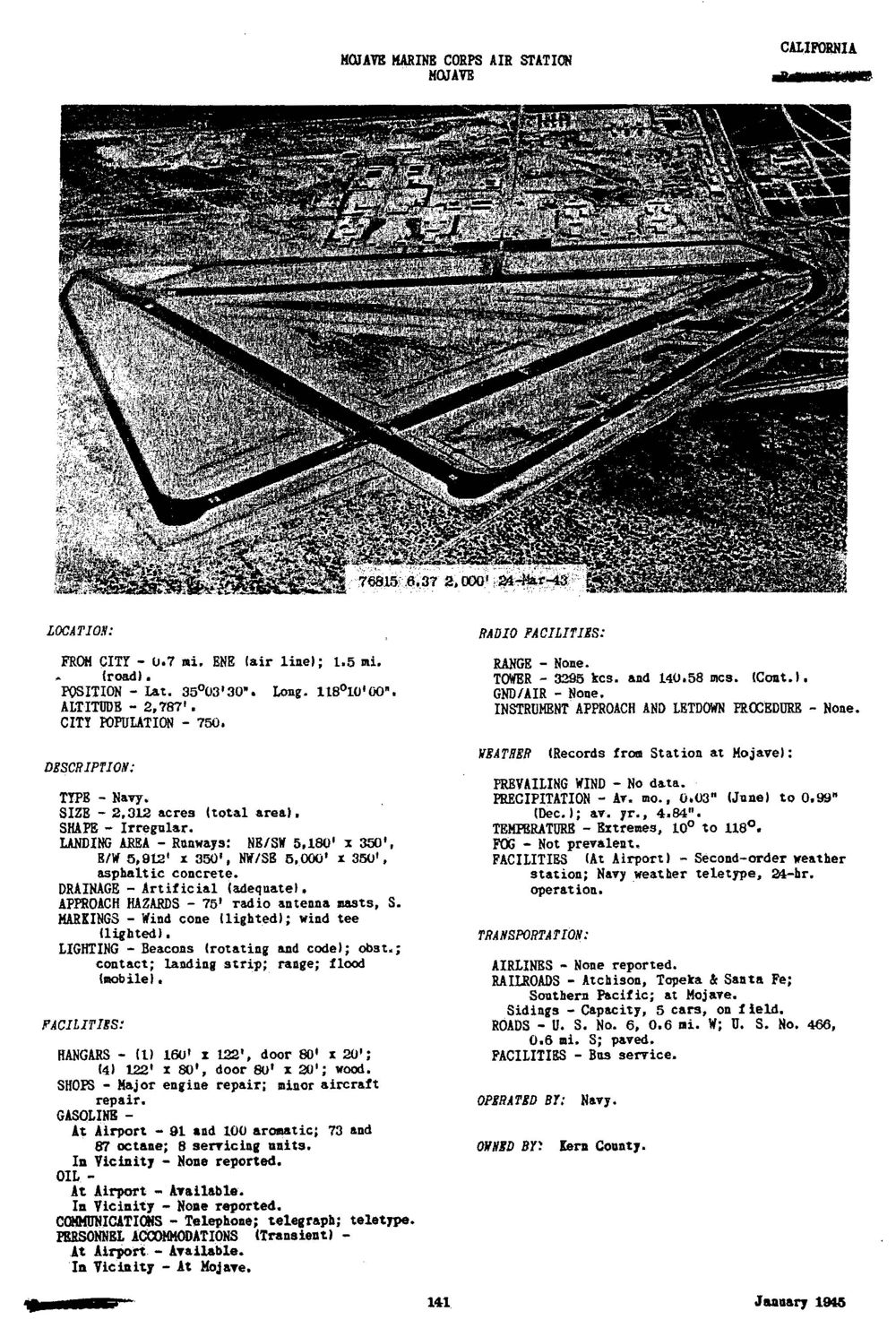 Additional Online Histories
Questions and comments concerning this site should be directed to the Webmaster
Updated 8 February 2016