Heraldry and Insignia of the California State Military Forces

Marksmanship Badges of the California National Guard

Captain George J. Albert

Military Historian, California Center for Military History, OMSA 7180
State Marksmanship Badges
As the National Guard became more closely aligned to the Federal Army, more importance was attached to marksmanship. Prior to 1884 funds for rifle practice in California were limited to from 5 to 10 rounds of ammunition per rifleman during annual target practice, and if a man was not present he was not allowed to make it up.
In the Report of Colonel Charles Sontag, Inspector-General of Rifle Practice for California dated Dec. 2, 1884, the Colonel urged the State Legislature to Appropriate sufficient funds to enable the National Guard to have at least 100,000 reloaded cartridges for target practice each year, and to provide a suitable rifle range for such practice. He called attention to the fact that the United States Army permitted each man 240 cartridges per year or 620 reloaded ones. The Colonel also stressed the fact that in order to effectively meet and defeat a determined foe, the National Guard should be able to properly handle the standard rifle (Model 1873 Trapdoor Springfield 45-70 caliber) and to shoot straight. This could not be accomplished on the small amount set aside for rifle practice in 1883. The highest score that year was 58% on the 200-yard range.
It appears that the State Legislature heeded the report of Colonel Sontage. For on March 12th 1885 the Legislature passed a law to appropriate $7,000.00 every biennium for the promotion of target practice, however, no money was set-aside until 1887. Then the State Legislature set aside $3,500 to be used for target practice for the years 1887 and 1888. This was only half the amount allowed by law. The Adjutant-General spent a portion of the money to purchase State Decorations, which were to be awarded to members of the National Guard for attaining certain percentages in target practice.
A decoration was adopted in 1887, produced by "George C. Shreve & Co." of San Francisco. This badge is the Type 1 model, which is a 1" diameter gilt bronze circlet, whose front design was a 3/4s Bear's head in the center and an inscription around the edge "NATIONAL GUARD OF CALIFORNIA * EUREKA *.On the back was the inscription "MILITARY" below which "AWARDED BY THE STATE TO" with a space for the recipients name and date of award, then the badge number, and below that "MARKSMANSHIP". At the bottom of the badge were two rings for the suspension of dated award bars for 1887, 1888, and 1889. These bars appear to all have been the bronze "Marksman" class. For those that exceeded the 80-90% range, it appears that a special silver medal with the year bar ribbon suspension was been awarded. Note: the author has never seen a dated bar for 1887-1889 that is anything other than the bronze "Marksman". Also three examples of the special medals all in silver have been seen with the dates 1889, and 1890. There may have been a gold version also (which the author has never seen nor heard of). These "Outstanding Marksmanship Medals" have the same medallion design as the type 1 badges, both front and back.
There are the regular medals (Type 1) for these years plus the special medals. The state changed the range firing from one day to two days and they were having trouble getting participants. Therefore, they added the medals as an extra incentive. The specials medals were given to the top firers for the first day and the regular medals for the second day. This information is in an AG report (courtesy of Brigadier General William Hamilton).
All these awards increased interest in marksmanship to the point that 688 of these badges were awarded for the year 1887. By 1895 the efficiency had increased to the point where 1,827 members were awarded marksmanship badges.
It appears that the dated award bars in different metals were not issued until 1891 with the Type 2 badges. The gold "Sharpshooter" for averaging 90% or better, silver "Rifleman" for averaging 80-90%, and bronze Marksman for those averaging 50-80%. These remained unchanged except that the gold bars appears later as the "Expert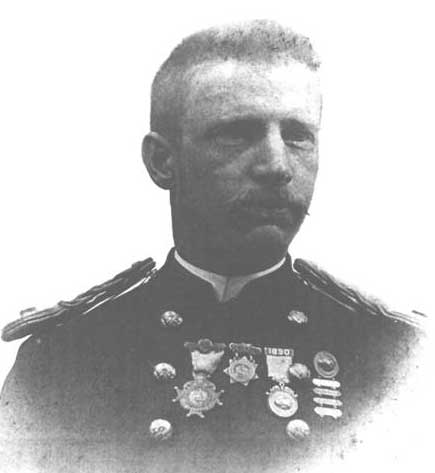 California National Guard Officer wearing the 1890 shooting medal and Type 1 Shooting Badge with 4 bars, probably 1887, 1888, 1889, and 1890 or 1891. Photo from Yas Yasinitsky, OMSA#1.
Rifleman" or "Revolver Expert" and the silver bars appear as "Sharpshooter" or "Revolver 2nd Class" and there is also a bronze "Revolver 3rd Class" Bar. Another bar noted was a silver "First Class Rifleman" 1908.

List of Some Known Bars

Bronze

Silver

Gold

Marksman 1887

Marksman 1888

Marksman 1889

Marksman 1891

Marksman 1892

Marksman 1893

Marksman 1894

Marksman 1895

Revolver 3rd Class 1904

Revolver 3rd Class 1905

Marksman 1912

Marksman 1913

Marksman 1916

Rifleman 1892

Rifleman 1895

Rifleman 1896

Rifleman 1901

Rifleman 1903

First Class Rifleman 1908

Rifleman 1909

Sharpshooter 1914

Sharpshooter 1902

Revolver Expert 1913

Expert Rifleman 1915




Type 1 Badges


Various numbers on Type 1 badges: #1011 - named Branard Jones February 22, 1889; #2019 no name, no date


"Outstanding Shooting Medal" 1887?-1890, these examples are for 1889, and 1890, these Medals are not numbered

A second type badge in silver suspended from an ornate target bar (similar to the Federal marksman collar insignia of 1876 to 1902). The design of the type 2 badges was very similar to the type 1 badge. The type 2 badge is a 1" diameter silver circlet, whose front design was a 3/4 Bear's head in the center and an inscription around the edge "NATIONAL GUARD OF CALIFORNIA * EUREKA *.On the back was the inscription "AWARDED BY THE STATE TO" with a space for the recipients name and date of award, the rest is plain, except for the badge number. It is known for a fact that these badges were awarded with dated bars: in gold, silver, and bronze. The type 2 badges were awarded until World War I. After World War I, the Model 1902 Federal Marksman, Sharpshooter, and Expert Rifleman badges were awarded. These are a long bar for Marksman, and a bar with cross for Sharpshooter and Expert Rifleman. During the 1930's the present Federal Marksman badges started being awarded.


Type 2 Badges





1891 Gilt Bronze Marksman Badge




This original medal was issued in 1891, the first year the California National Guard dated their Type 2 Marksman medals. The front of the medal bares the inscription "MARKSMAN 1891" and hanging below an iron cross shaped medal with a target shape in blue in the center. Around it are the initials C N G for California National Guard. Two rifles designs etched into the medal cross behind the Maltese Cross with the butts and barrel ramrod and front sights recognizable on top and bottom extending beyond the Cross Shape (see photos below) 1 and 1/2 inches wide by 1 and 5/8th inches long; 1/9th inches thick


More Type 2 Badges





California Naval Militia Sailor (Adolph Berry Adams c.1900) wearing the Type 2 Marksmanship badge

To view a roster of medal recipients, CLICK HERE

M1902 National Guard Marksmanship Badges (World War I and After)

These badges were identical in design to those worn by the United States Army with the exception that they were made of brass instead of silver oxide.

Rifle

| | | | |
| --- | --- | --- | --- |
| | | | |
| EXPERT | SHARPSHOOTER | MARKSMAN SPECIAL COURSE A* | MARKSMAN |

*Coast Artillerymen used rifles only in a defensive mode, to protect their positions from enemy troops who might land in an attempt to seize the big guns. Coast Artillery troops qualified on a special short course, known as the "A" Course and received a special badge for this qualification.


Pistol

| | | |
| --- | --- | --- |
| | | |
| EXPERT | SHARPSHOOTER | MARKSMAN |

Army Marksmanship Badges

by the Institute of Heraldry, US Army

| | | | |
| --- | --- | --- | --- |
| | | | |
| EXPERT | SHARPSHOOTER | MARKSMAN | BAR (Typical) |

1. Description: Expert: A white metal (silver, nickel and rhodium), 1.17 inches in height, a cross patee with the representation of a target placed on the center thereof and enclosed by a wreath. Sharpshooter: A white metal (silver, nickel, and rhodium), 1 inch in height, a cross patee with the representation of a target placed on the center thereof. Marksman: A white metal (silver, nickel, and rhodium), 1 inch in height, a cross patee.
2. Qualification Bars: Bars with the following inscriptions are currently authorized for display on the badges:
Rifle

Machinegun

Submachine Gun

Rocket Launcher

Small Bore Pistol

Pistol

Field Artillery

Grenade

Mortar

Missile

AA Artillery

Tank Weapons

Carbine

Bayonet

Aeroweapons

Auto Rifle

Flamethrower

Recoilless Rifle

Small Bore Rifle
Inscription formerly authorized on qualification bars:
1921

Rifle - A

Automatic Rifle

C.A. Gunner

1922

Added Sword

Rifle - B

Pistol

Inf Howitzer

Pistol - M

Rifle - C

Machine Gun

F.A. Gunner

Pistol - D

Rifle - D

Mine Gunner

Delete Pistol

1924

Consolidated all rifles to Rifle, added Machine Rifle, Tank Weapons, C.W.S. Weapons, Bayonet

1926

Added Aerial Gunner, Aerial Bomber

1928

Added Grenade

1941

Deleted Sword, added Small Bore Rifle, Small Bore Pistol, Submachine Gun, Small Bore MG.

1944

Added Carbine, Antitank, 81mm Mortar, 60 mm Mortar, TD 75mm, TD 57mm, TD 3 inch

1948

Added Recoilless Rifle, Mortar. Deleted Pistol D, Pistol M, Mines, C.W.S. Weapons, Aerial Gunner, Aerial bomber, Small Bore MG, Antitank, 81mm Mortar, 60mm Mortar, TD (all types)

1951

Added Submarine Mines

1972

Added Aeroweapons
Prior to 1951 regulation, the titles of the badges were Marksman and 2d Class Gunner; Sharpshooter and First Class Gunner and Expert.
Regimental Shooting Badges
A number of Infantry, Artillery and Cavalry qualification badges also exist that show affiliation to various Units, these such as an example in Gregory Ogletree's Book Awards and Decorations of U. S. State Military Forces, 1988. Patriot Press under the California shooting badges shows a Regimental shooting badge to a Distinguished Rifleman in the 5th Infantry Regiment. These and the various Cavalry badges are Unit specific awards and not really awards of the State in general. They are outside the scope of this article, and will not be dealt with here.

San Francisco Hussars Sharpshooter's Badge, circa 1863

This appears to be a one of a kind hand made jewelers piece.It has a beautiful carved eagle with a sharps rifle in its talons.The bottom planchet is attached to a folded hook type protrusion.There is fancy scroll work and a white enamelled target in the center.Above are the words "S F HUSSARS".The reverse has some very faint engraving.At the top is the date "1863".At the bottom it states "2nd".Across the middle,at one time.I could see the word Sharpshooter that is now just about totally eradicated with the exception of the letter"S"..Again at the top,it appears to me in script engraving below the 1863 is the very faint word "presented",which can make out the "ented". Images and text courtesy of Mr Bob Albertini.

5th Infantry Regiment Distinguished Rifleman Badge

Marksmanship Badges Awarded to Captain Hermann S. Templeton, Company C, 1st Infantry Regiment, San Francisco 1876 and 1879


2nd Artillery Regiment, Circa 1890

A stirling silver badge of the San Francisco-based 2nd Artillery Regiment (1881-1895)
Troop A, 1st Squadron, Cavalry, 1901 and 1902

Search our Site!
Questions and comments concerning this site should be directed to the Webmaster
Updated 2 May 2016