Historic California Posts, Camps, Stations and Airfields

Naval Auxiliary Air Station, Hollister

History

by M.L. Shettle, Jr.
Hollister is located 80 miles southeast of San Francisco. On April 14, 1912, the first local flight took place from a pasture three miles north of town that would later become an NAAS. The field was used for various flying activities during the ensuing years. In the mid-1920s, Everett Turner, a local crop duster, purchased the property naming the airport Turner Field. In February 1942, the Army from Moffett Field inspected the airport with the intention of forming a primary training Contract Pilot School. At that time, the CAA was conducting flight training at the airport -- still a grass strip. The Navy visited the airport the following November and evaluated it for an auxiliary station. After the beginning of the war, the Navy condemned the property purchasing it for $18,500. Construction proceeded slowly with only two 2700-ft. gravel runways completed by October 1942; however, work, began in earnest during December to add lengthened hard-surfaced run ways and buildings. Initial expenditures at Hollister totaled $725,000, when it commissioned on June 26, 1943, as an auxiliary of Alameda.
Hollister served as an operational training base for torpedo and fighter squadrons that formed or reformed at Alameda. Since the torpedo range at Monterey Bay was only 20 miles to the west, Hollister was ideal for torpedo squadrons and composite squadrons of torpedo and fighter aircraft. VC-39 was the first squadron to report, shortly after the opening of the base. During the remainder of 1943, VC-42, and VC-68 passed through the station. Meanwhile, an $890,000 program enlarged the base to accommodate two light carrier air groups of four squadrons. Additions included two hangars and a ground training building. Light carrier air groups consisted of one fighter and one torpedo squadron of Hellcats and Avengers. In early 1944, VT-18 and CAG 27 trained at Hollister for several months. CASU 37 serviced and supported the carrier aircraft at Hollister as well as Monterey. VF-17, CAG 33, and VC-41 were on board during the rest of the year. A tragic accident occurred on June 8, when a VF-33 pilot lost his life in the crash of an F6F -- five days after his wedding.
During early 1945, CAG 31 trained at the station. VF-31 suffered an unfortunate accident during its stay, when its LCdr. commanding officer was killed in an F6F crash at Monterey Bay. CAG 32 arrived at the station following CAG 31's departure. In June, Hollister reached operational peak with CAG 22 and 37 and a total of 88 aircraft on board. On June 26, two F6Fs of VF-22 had a midair collision that claimed the life of one pilot. Another fatal accident happened less than two months later on August 17, when a TBM of VT-37 was lost with its crew of three. The Navy placed the station on caretaker status, October 15, 1945.
Hollister's 210 Navy-owned acres had two 200-ft. wide tarmac runways of 4300 and 4000-ft. lengths. In August 1945, complement stood at 146 officers and 927 men. The base had billeting for 167 officers and 928 enlisted men. Station aircraft usually consisted of a GH Howard ambulance aircraft and a GB Beech for light transport.
In 1947, the U.S. Government deeded the airport to the City. In 1995, several Navy buildings survived. The airport is used for general aviation and in the summer by California forest fire fighting aircraft.
Copied with the permission of the author from
Histroy

by Justin Ruhge
On March 20, 1942 the Navy, through condemnation proceedings in Federal Court, acquired title to the Hollister Airport and adjoining lands owned by l. E. Ladd and Frank O'Connell. $18,500 was paid for the transaction. Atwood Crop Dusting Service occupied the only structures at the non-paved grass strip.
Preliminary grading was accomplished by August 14,1942 on two runways. Graveling of two 2,700-foot runways was completed by October 30, 1942. On December 4, 1942 work began on the final plan to house 300 naval personnel with appropriate support buildings. The two runways were extended to 4,200 feet. This was to become NAAS Hollister supporting NAS Alameda as a flight facility for advanced weapons training and military operation/attack procedures prior to entering the war zone. Generally, upon completing their courses at Hollister, the Navy flight crews were shipped out directly for transport to the Pacific Theater.


Beginning in early spring 1943, squadrons from NAS Alameda flying Hellcats and Avengers arrived at Hollister to sharpen their skills. Dropping practice torpedoes in Monterey Bay became the order of the day for the Avenger's crews while the Hellcats practiced their formation, tactical dog-fighting and attack profiles in the surrounding area around Hollister.


A regular training syllabus for the arriving squadrons from Alameda NAS lasted six months for both the F6F Hellcats and TBM Avenger crews.


Another skill honed while at Hollister NAAS was perfecting carrier landings for the pilots. Field carrier landing practice was the order of the day/night for these men soon to be flying from the decks of the Navy's mighty aircraft carriers. This was done in a prescribed pattern around the field at minimum approach speed in the landing configuration while being directed by a paddle-waving landing signal officer. Precise flying was required to bring any aircraft aboard a carrier.


In November 1945 Hollister was placed on caretaker status. In June 1946, the Navy authorized the disposal of NAAS Hollister.

Reference: Stu O'Brien San Benito County Historical Society, 1994.


US Army Corps of Engineers Sacramento District History (1994)
Location: Central California, San Benito County, approximately 2 miles north of the City of Hollister.
Site History: Hollister NAS functioned as an air training facility for fighter squadrons from 1943 to 1946. Beginning in 1943, the Navy began construction of 16 structures including: a power shack, two hangers, four barracks, two traning classrooms, an administrative and maintenance facility, and five ammunition storage bunkers. The Navy installed nine 300- or 500-gal underground heating oil storage tanks and five 10,000-gal underground fuel storage tanks.
Extract, US Army Air Forces Directory of Airfields (January 1945)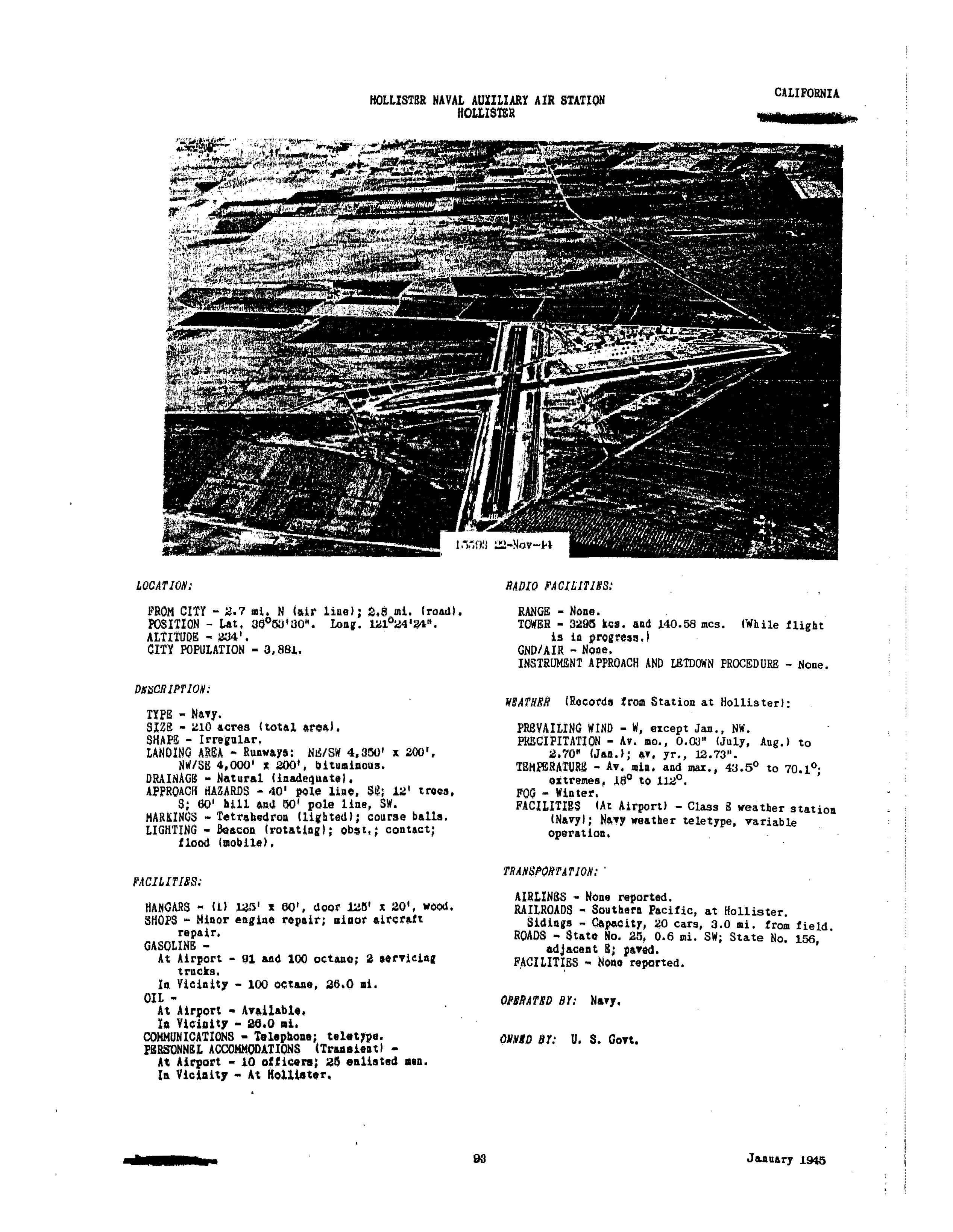 Site Map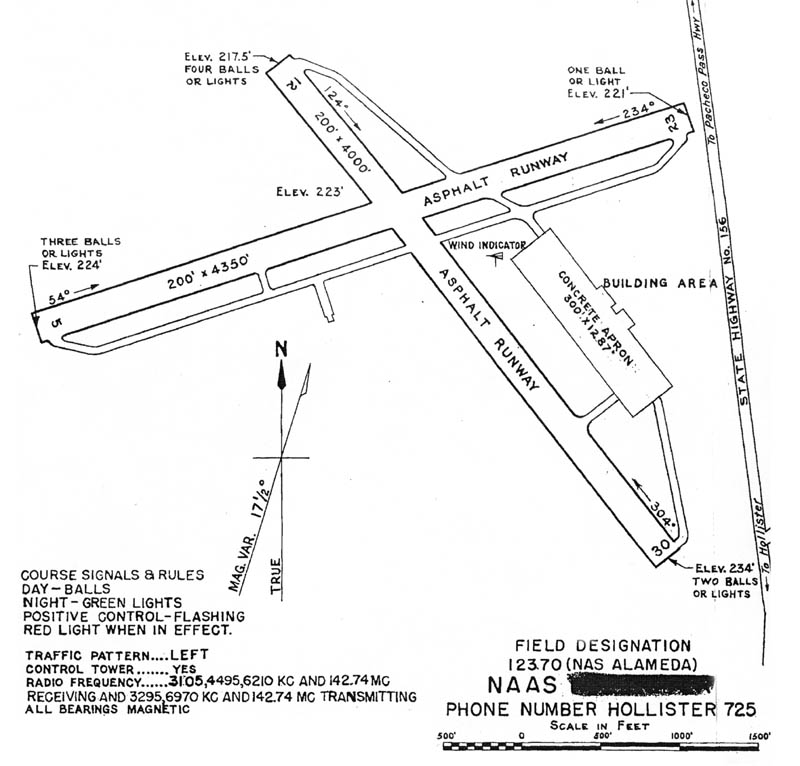 Other Online Histories

US Army Corps of Engineers Archival Serach Report

Search our Site!

View My Stats

Visitors since 8 December 1998
Questions and comments concerning this site should be directed to the Webmaster
Updated 1 October 2017