Historic California Posts, Camps, Stations and Airfields

Naval Outlying Field, Crescent City
The Del Norte County Airport was constructed in late 1942 by the County of Del Norte under agreement with the Civil Aeronautics Administration. The facility was leased by the Navy as NOLF Crescent City on 11 September 1944. Military use was limited to emergency landings and takeoffs. The lease agreement with Del Norte County was terminated on 10 February 1947. After the Navy vacated the site, the Del Norte County Agriculture Commission used the site from 1970 to 1981. Since then, various aviation companies have been located on the former DoD site.
Source: US Army Corps of Engineers Public FUDS GIS System
US Army Corps of Engineers History
SITE NAME: The site is known as Jack McNamara Field, Del Norte County Airport. The site was originally known as the Point St. George Airport and has also been called Naval Outlying Field Crescent City, assigned to Arcata Naval Auxiliary Air Station. Hereinafter the site will be referred to as Jack McNamara Field.

LOCATION: The site is located in Del Norte County, California 3 miles northwest of Crescent City.
SITE HISTORY: This site was leased by Del Norte County to the U.S. Government for use as an emergency landing facility under a Navy-Civil Aeronautics Administration type Lease No. R-36790 on September 11, 1944. The War Assets Administratioin Land Facilities Report stated that the airport consisted of landing facilities (two runways), two taxiways, one concrete apron, a field marking system, a field lighting system with contact lights, range lights, an airport beacon, and obstruction lights prior to the lease agreement. This report also stated that there were no buildings of any kind on the airport grounds. Two 25,000-gallon underground fuel storage tanks (USTs) were installed by the War Department, with War Department funds, prior to the leasing of the airport by the Navy. In the lease agreement, the County was granted joint use of the facility, with the Navy responsible for maintenance. The lease was terminated on February 10, 1947 by a surrender of leasehold and returned to the County of Del Norte.
Source, Sacramento District, US Army Corps of Engineers
Extract, January 1945 Airfield Directory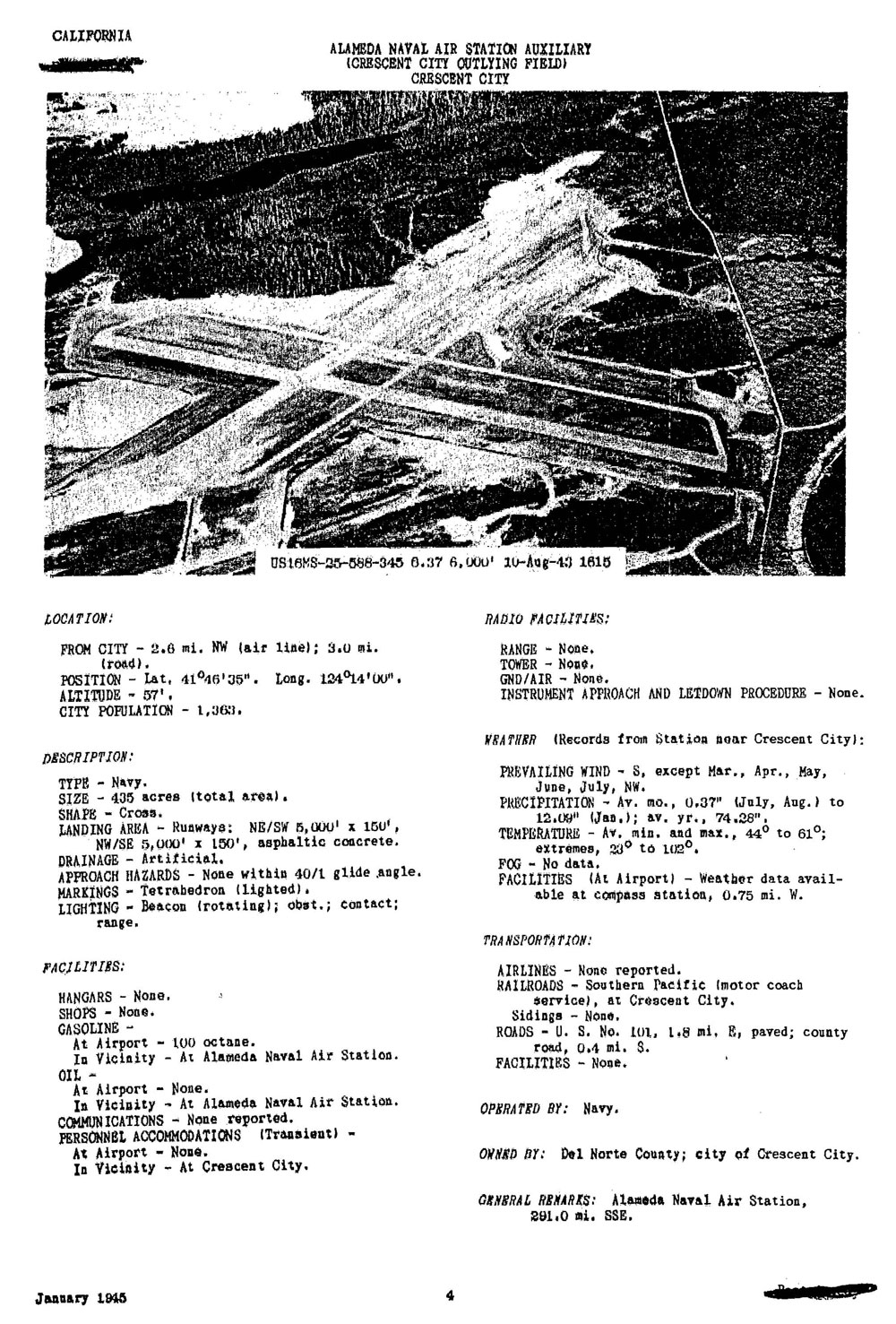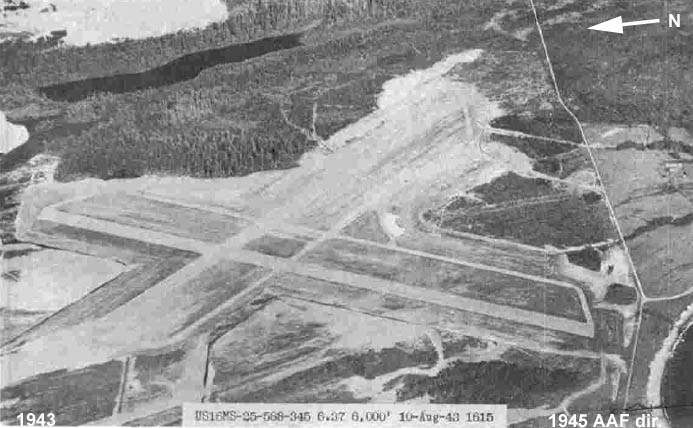 Search our Site!
Questions and comments concerning this site should be directed to the Webmaster
Updated 8 February 2016