Californians and the Military

Major General Joseph H. Pendleton, USMC

(1860-1942)

By Mark J. Denger

California Center for Military History, State Military Reserve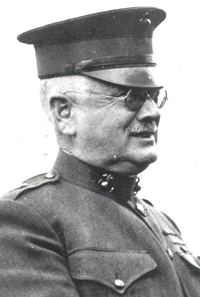 Major General Joseph Henry Pendleton pioneered Marine Corps activities in the San Diego area. He typifies many of his generation who contributed to California's evolving military heritage. General Pendleton exemplifies many of California heroes, demonstrated courage in both war and peace. Upon his retirement he continued to support a Marine presence in San Diego as a respected member of his community.
Joseph Henry Pendleton was born on June 2, 1860 in Rochester, Pennsylvania. He graduated from the United States Naval Academy at Annapolis, Maryland and was commissioned a second lieutenant in the U.S. Marine Corps on July 1, 1884. His first duty was performed at the Marine Barracks, Navy Yard, New York where he served from August 31, 1884 to February 7, 1885. From here he joined the USS PENSACOLA on March 20, 1885, which was operating off the off the Alaskan coast in the Bering Sea.
Advanced to the rank of first lieutenant on June 28, 1891, Pendleton at the outbreak of the Spanish-American War, served aboard the converted cruiser USS YANKEE, taking part in the bombardment of Santiago, Cuba. He was promoted to the rank of Captain on March 3, 1899 and Major on March 3,1903. He joined the First Brigade of Marines on May 28, 1904 in the Philippine Islands. From February to July 1906, Major Pendleton commanded the Marine Barracks, Guam. From September 1906 to September 1909, he commanded the Marine Barracks, Puget Sound, Bremerton, Washington. Advanced to the rank of Lieutenant Colonel on January 1, 1908, he was assigned to the First Brigade of Marines in the Philippine Islands for his second tour of duty there on November 4, 1909. He performed duty as Commanding Officer, First Brigade and as Post Quartermaster and Commanding Officer of the First Regiment, Olongapo, Philippine Islands. On May 23, 1911, he was promoted to the rank of Colonel.
Detached from the Philippine Islands in May 1912, Colonel Pendleton returned to the United States via the Suez Canal and Europe, reporting at the Marine Barracks, Portsmouth, New Hampshire in August 1912. While attached to Marine Barracks, Colonel Pendleton was based on temporary foreign shore service from August 1912 to December that year. This duty covered the period of the 1912 operations in Nicaragua where he was in command of all Marine forces during the campaign. The skirmishes at Masaya and Chichigalpa and the capture of Coyotepe and Leon occupy high places in Marine Corps history. From February to June 1913, Colonel Pendleton was with an expeditionary force at Guantanamo Bay, Cuba.
In September 1913, Colonel Pendleton assumed command of the Marine Barracks, at Puget Sound, Washington and was on expeditionary duty for a good part of this period. In 1914, the 4th Regiment was reactivated and Pendleton was ordered to organize and command this expeditionary force. Pendleton and his regiment served on board the USS SOUTH DAKOTA and USS JUPITER, when it withdrew to land at North Island, San Diego on July 10, 1914.
With the arrival of Pendleton's regiment in San Diego, his love affair with the area began. He immediately recognized the value of San Diego with its good weather and harbor as an ideal choice for the Marine Corps' Advance Base Force to be stationed on the West Coast. Colonel Pendleton openly advocated a major Marine Corps installation in San Diego for the next 10 years. Between July 1914 and June 1916, Pendleton and his regiment improved facilities at North Island while the Marines made a favorable impression on the San Diego Community. Meanwhile, visits of high-ranking dignitaries to various expositions during this period helped to win government support for a large Marine Corp base at San Diego.
During this period, he was in command of the Fourth Regiment from April to December 1914, on board the USS SOUTH DAKOTA and at San Diego, California. On June 19, 1916, he was placed in command of all naval forces ashore in Santo Domingo. During this campaign, Pendleton received the Navy Cross and the Distinguished Service Medal for his participation in engagements with the enemy at Las Trencheras, at Dona Antonia, at Guayacanes and command of the forces that occupied Santiago. On August 29, 1916, he was promoted to the rank of Brigadier General. His final promotion to Major General came on December 10, 1923. Retiring from military service in 1924, General Pendleton had pioneered Marine Corps activities in the San Diego area during his 46 years of distinguished service from 1878 to 1924.
Pendleton purchased a home in Coronado near the harbor and became active in the civic affairs of the city. He served as mayor of Coronado from 1928-1930. Pendleton died on February 4, 1942 at his home in Coronado, California, at the age of 81.
Within a two months of his death, the Marine Corps started construction of a large base on the former Rancho Santa Margarita y Las Flores near Oceanside, California. When the decision to name this base was made, General Pendleton, who long advocated a major Marine Corps installation on the West Coast, was the obvious choice for that honor. On September 25, 1942, President Franklin D. Roosevelt arrived at the Camp for the official dedication of Camp Joseph H. Pendleton.
Search our Site!
Questions and comments concerning this site should be directed to the Webmaster
Updated 8 February 2016