Historic California Posts, Camps, Stations and Airfields

Torney General Hospital

Administration Building, Torney General Hospital

Torney General Hospital came into being during the summer of 1942 when the Army purchased the El Mirador Hotel in Palm Springs and converted it into a 1600-bed general hospital. During the war Torney specialized in general medicine, rheumatic fever and general and orthopedic surgery. During the summer of 1943 the Army transferred the hospital to the Army Air Forces. About 250 prisoners of war worked at the hospital. In November 1945 the facility was turned over to the Federal Works Administration.

US Army Corps of Engineers Los Angeles District History (1994)

Location: The site is located in developed sections of Palm Springs, California. The site's hospital area, enlisted men detachment, prisoner of war area, and WAC detachment area are located within Sections 10 and 11 of Township 4 South, Range 4 East (San Bernardino Meridian). These site areas are bordered by the following Palm Springs streets: Paseo El Mirador to the north, Avenida De Los Caballeros to the east, Alejo Road to the south, and Indian Canyon Drive to the west. The site's sewage treatment plant is located within Section 19 of Township 4 South, Range 5 East (San Bernardino Meridian) near Mesquite Avenue.


Site History: The 139.247-acre site was used as an Army hospital during World War ll. The main hospital areas were located within tracts 1, 2, B-1, and 3-d. The El Mirador Hotel was owned by the Palm Springs Holding Corporation prior to military occupation (tracts 1, 27.66 acres, and B-1, 0.17 acres). The hotel included serviceable buildings and appurtenances which served as the main hospital. The area contained several civilian housing units and hospital personnel quarters, two clubs, library, theater, chapel, hospital wards, recreational areas and buildings, administration buildings, shops and warehouses, laundry/linen buildings, post office/bank, surgery building, sentry boxes, garbage house, boiler and pump houses, fIltering plant, grease trap, and three heating oil tanks (6,000 gallon, 6,500 gallon, and 12,500 gallon). These tracts currently contain the Desert Hospital and the Desert Medical Plaza.

The War Department also acquired certain shares in the Whitewater Water Company and the reservoir located approximately 1.5 miles north of tract 1 (tract A-I, 0.21 acres). According to correspondence contained in the project file, the right of way for the pipeline between the reservoir and the El Mirador Hotel was not acquired.


Tract 2 (40.10 acres) was desert land at the time of military acquisition. Military improvements included 36 hospital wards, warehouses, bakery, firehouse, sentry box, mess halls, recreation buildings, commissary, laundry building, office and therapy buildings, a garage including gasoline station/ pump and grease rack, incinerator, boiler and pump houses, and eight heating oil tanks (550-gallon, (2) 3,000-gallon, (2) 6,000-gallon, (2) 12,000-gallon, and one tank of unknown capacity). This tract currently contains a school, a pre-school, a city park, a section of undeveloped land, and other recreational buildings.


Tract 3-d (5.00 acres) was vacant land adjoining tracts 1 and 2 at the time of military acquisition. Military improvements included a guardhouse, morgue, pump house, surgery and x-ray buildings, laboratory, outpatient depot, and five clinics. This tract currently contains the Las Plamas Medical Plaza.


Tracts C-l through C-7 (19.91 acres) were acquired by the military for construction of an enlisted men detachment and prisoner of war area. Military improvements included 22 barracks, administration, recreational, and therapy buildings, lavatory, bath house, mess halls, chapel/school, day rooms, post exchange, prisoner of war stockade, and five heating oil tanks (330-gallon, (2) 550-gallon, 1,500-gallon, and 2,500-gallon). These tracts are currently developed residentially.


Tracts C-8 through C-lO (2.617 acres) were acquired by the military for construction of a WAC detachment area. Military improvements included two barracks and an administration building. The western portion (C-lO) of these tracts is currently developed residentially. Concrete foundations for one of the barracks (building #304) and the administration building (#305) still exist.


Tract I-A (39.08 acres) was desert land at the time of military acquisition. Military improvements included the construction of a sewage treatment plant containing a storage building, screen chamber, pump house, primary clarifier, measuring flume, digester, gas burner, and sludge beds. The sewage treatment plant and sewage line right of way easements were transferred to the Palm Springs Army Air Field in March 1946. This tract currently contains a city park with tennis courts and borders the City of Palm Springs Wastewater Treatment facility.


With the exceptions noted above (portion of tract 2 and portions of tracts C-8 and C-9), all areas of the site have been developed for a variety of beneficial uses. The sewage treatment plant was dismantled and replaced with the current city wastewater treatment facility around 1960.


All roadways on which sewer line right-of-ways were obtained by the Department of Defense are contained within paved streets, including Ramon Road, El Cielo Road, Alejo Road, Avenida De Los Caballeros, and Tamarisk Road.


Review of the Riverside County Assessor's records confirmed that the site is owned by several private companies and individuals or local governments. The undeveloped areas in tracts C-8 and C-9 containing the barracks and administration building concrete foundations are currently owned by Jet Air, Inc. of San Diego, California.


Tract 2 located between Tachevah Drive, Avenida De Los Caballeros, Tamarisk Road, and to the school, a Girl Scout building, a Campfire Girls building with associated campfire ring, a preschool, and the Ruth Hardy Park. The undeveloped area located at the northwestern corner of the tract, contained a two-by-three foot concrete pad that has a vent/valve sticking out through the top. This tract was used for hospital wards during military occupation.


Tracts C-I through C-7 located between Tamarisk Drive and Alejo Road along Avenida De Los Caballeros are all developed residentially.


Tracts C-8 through C-lO were located on Tachevah Drive between A venida De Los Caballeros and Via Miraleste. These areas included barracks and an administration building. Remnants of the concrete foundations for the administration building (# 305) and one of the barracks (#304) were identified during the site visit. No evidence of vents around the perimeters of the foundations were observed. This area was bordered by trees and brush to the north, south, and west and by Asher Street to the east.


Tract I-A that contained the former sewage treatment plant is currently part of Demuth Park containing tennis courts and other recreational facilities. The current Palm Springs Wastewater Treatment Facility is located on Mesquite Avenue adjacent to Demuth Park.



George Henry Torney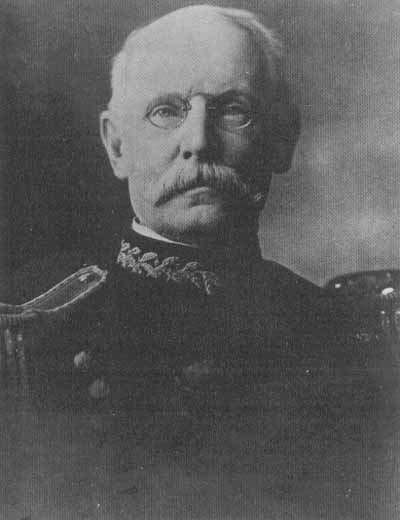 George Henry Torney (June 1, 1850 - Dec. 27,1913), Surgeon General, January 14, 1909 - December 27, 1913, was born in Baltimore, Maryland, the son of John P. and Mary M. (Peacock) Torney. He received his preliminary education at Carroll College, New Windsor, Maryland, which he attended from 1862 to 1867, following which he took the course in medicine at the University of Virginia at Charlottesville where he was given his degree of M.D. on June 30, 1870.
After an internship at the Bay View Hospital in Baltimore he entered the Navy as an assistant surgeon on November 1, 1871. He was promoted to passed assistant surgeon on December 18, 1874, but on account of intractable seasickness he resigned his commission on June 30, 1875. The following day, July 1, 1875, he accepted appointment as a first lieutenant and assistant surgeon in the medical department of the army. Then followed years of highly useful though relatively uneventful service in various army posts. Upon appointment he was ordered to Fort Wood in New York harbor, from whence he sailed in November 1875 with a battalion of the 5th Artillery to Key West Barracks, Florida. He served at Fort Canby in Florida until May 1877 when he was transferred to Fort Gibson in the Indian Territory. In September 1878 he went to Fort Wingate, New Mexico, and in December 1880 to Fort Lyon, Colorado, where he remained for the following four years. In this service in the southwest he saw the usual amount of field service against hostile Indians that fell to the lot of all medical officers serving in that section during those troublesome times.
In April 1885 he was brought east to Fortress Monroe, Virginia, where he served for the next four years, after which he had four years of service at Fort Brown, Texas, near the mouth of the Rio Grande. He had been promoted to Captain on July 1, 1880, and in September 1893 he was ordered to Philadelphia as attending surgeon and to prepare him for his examination for the grade of major.
He was promoted to major on June 6, 1894, and in the following month was detailed for duty as surgeon at the United States Military Academy at West Point. He remained there until the outbreak of the Spanish-American War, when in May 1898 he was ordered to equip and command the hospital ship Relief. He served in this capacity, transporting sick and wounded from Cuba and Porto Rico to the United States, until the end of hostilities.
In October 1898 he was sent to Fort Leavenworth, Kansas, and detailed as instructor in hygiene in the general service schools. After one year of this duty be was transferred to the command of the Army and Navy General Hospital at Hot Springs, Arkansas, where he remained until November 1902. From this duty he was transferred to Manila, P. I., and assigned to the command of the First Reserve Hospital.
In July of the following year he was transferred, seriously ill, to the general hospital at the Presidio of San Francisco. In November he was sufficiently recovered to be assigned to the duty of chief surgeon of the Department of California. After four months of this duty he was sent back to the Presidio as commanding officer of the general hospital. He held this position from March 1904 until December 1908. It was during this period, on April 18, 1906, that the great earthquake and fire occurred in San Francisco. The army was active in the police and rescue work following the disaster and the Presidio hospital was taxed to the limit. Lieut. Colonel Torney was placed in charge of the sanitary work of the stricken city and acquitted himself notably well in the face of the greatest difficulties. The brilliant record that he made as an administrator and sanitarian during these trying days made him the popular hero of the city and assisted materially to give him the office of Surgeon General when it became vacant. From November 1907 to November 1908 he filled the dual role of chief surgeon of the Department of California and commanding officer of the general hospital which was later designated Letterman General Hospital in War Dep't. General Orders, No. 152, November 23, 1911. In the meantime he had been advanced to the grade of lieutenant colonel and deputy surgeon general on August 6, 1903, and to colonel of the medical corps on April 23, 1908.
With the retirement of General O'Reilly in January 1909 the strength of San Francisco's gratitude was sufficient to give Colonel Torney the vacated place, though the list of officers senior to him included such potent names as those of Colonels Gorgas, Havard, and Hoff.
General Torney began his career as Surgeon General on January 14, 1909. He retained as his office assistants much of the same group that General O'Reilly had assembled and continued to advocate the policies laid down by his predecessor. The reserves of officers, nurses, and supplies were built up, and the Walter Reed General Hospital was opened in May 1909 following the announcement in War Dep't. General Orders, No. 70, April 14, 1909, and the discontinuance of the hospital at Washington Barracks. Immunization against typhoid fever was pushed to universal use in the army in 1911, and the use of venereal prophylaxis extended. The Army Medical School was built up, department laboratories established, and sanitary measures improved. An act of Congress approved March 3, 1911 (36 Stat. 1054), created the Dental Corps as part of the medical department. It was a time of activity in the tactical training of medical personnel with the beginning of the instruction of medical officers in field work and medical tactics at the Fort Leavenworth schools and with added importance given to military hygiene in the service schools. The mobilization of a maneuver division in Texas gave the medical department an opportunity to test for the first time the worth of their field hospitals and ambulance companies and the efficiency of the regimental sanitary equipment. It gave also a practical test of the efficacy of the typhoid prophylaxis. In the Philippines the work of the medical research board was fruitful in the practical elimination of beri-beri from the native troops. General Torney's term of four years ended with a brilliant record of achievement in January 1913 and he was immediately reappointed on January 14.
His second term had advanced less than a year when on December 27, 1913, he died of broncho-pneumonia at his residence in Washington after an illness of some weeks duration. He was within about six months of his retirement for age.
General Torney was a member of the American Medical Association and of the Association of Military Surgeons and a fellow of the American College of Surgeons. He was elected president of the Association of Military Surgeons at its Milwaukee meeting in 1911. He was the Chairman of the War Relief Committee of the American National Red Cross.
He was married on January 22, 1872, to Mary A. Johnston of Baltimore. She survived him together with one daughter and four sons. One son followed his father's bent in the study of medicine and another followed him in a military career as an infantry officer.
Sources: Who's Who in America, 1912-13; Mil. Surgeon, Feb. 1909; Ibid., Feb. 1914; Boston M. and S. J., 1914, p.71; J. A. M. A., 1914, p.52; N. York, M. J., 1914, p. 32; N. Y. Med. Times, 1914, p. 121; P. M. Ashburn, History of the Medical Department of the U. S. Army (1929); Records of the Office of The Surgeon General.
Extracted from "Chiefs of the Medical Department, U.S. Army 1775-1940, Biographical Sketches," Army Medical Bulletin, No. 52, April 1940, pp. 84-87, compiled by James M. Phalen, Colonel, Medical Corps, U.S. Army retired

Prisoner of War Camp / Prisoner of War Branch Camp
A camp that had a capacity of 244 Italian and later German prisoners of war who were employed at the hospital. On 1 March 1946, the camp became a branch of Camp Haan's prisoner of war camp.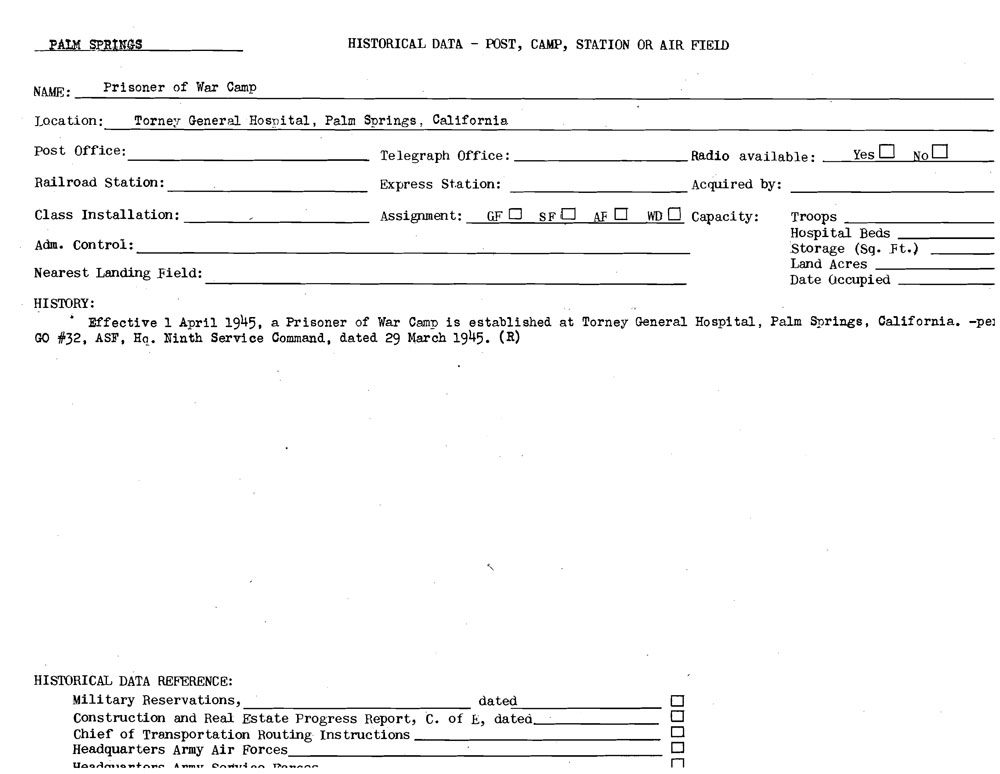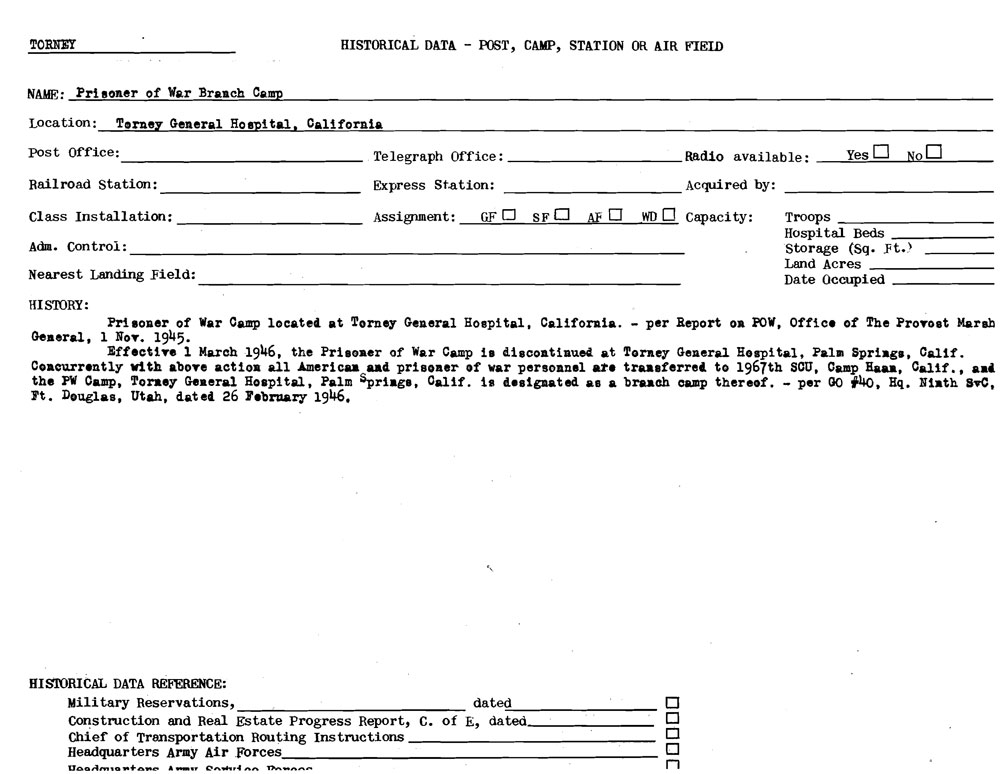 Site and Real Estate Maps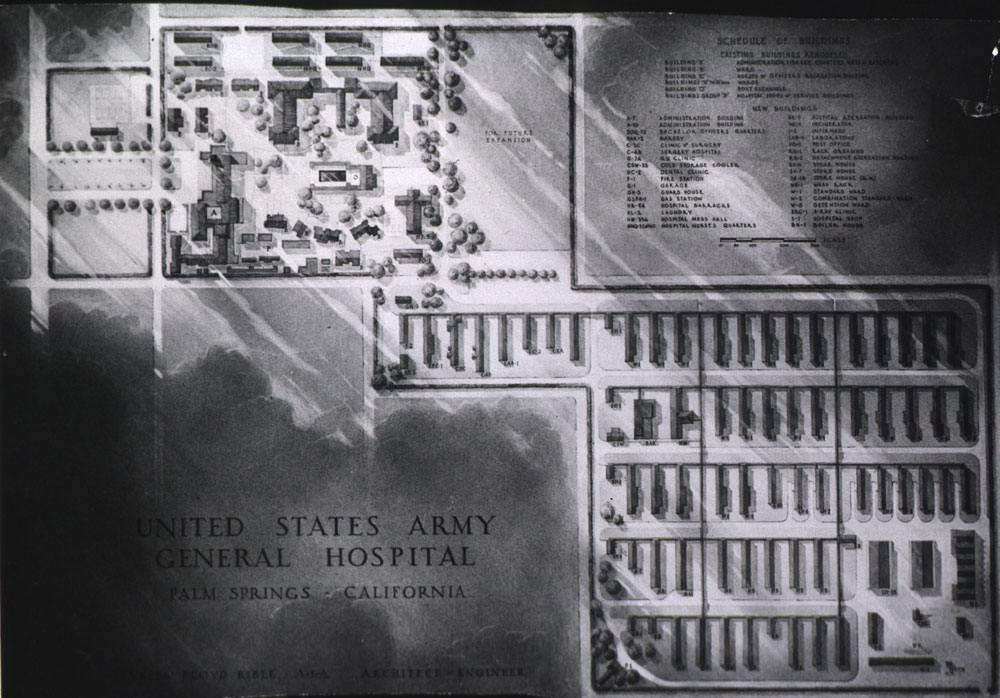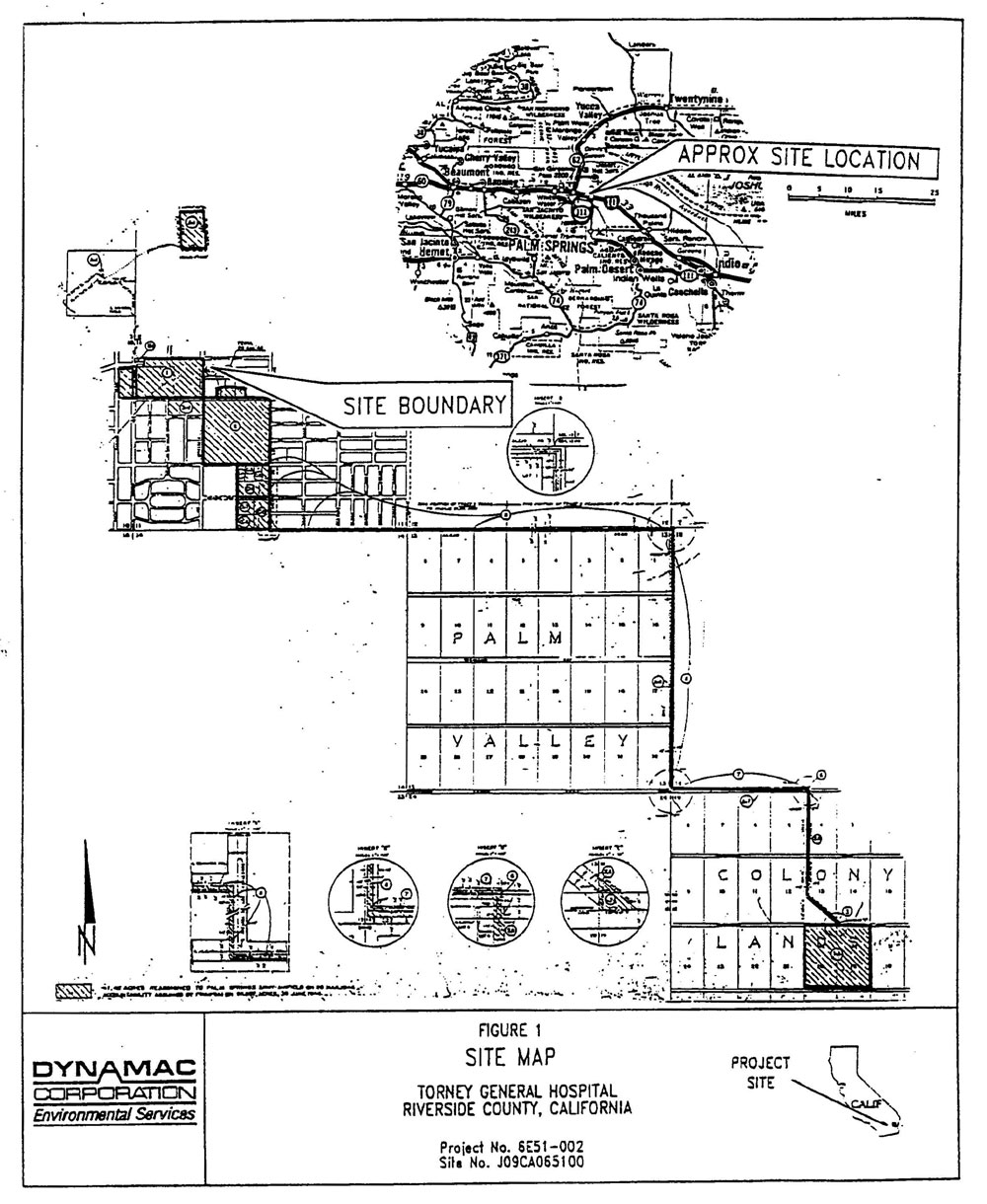 Aerial Images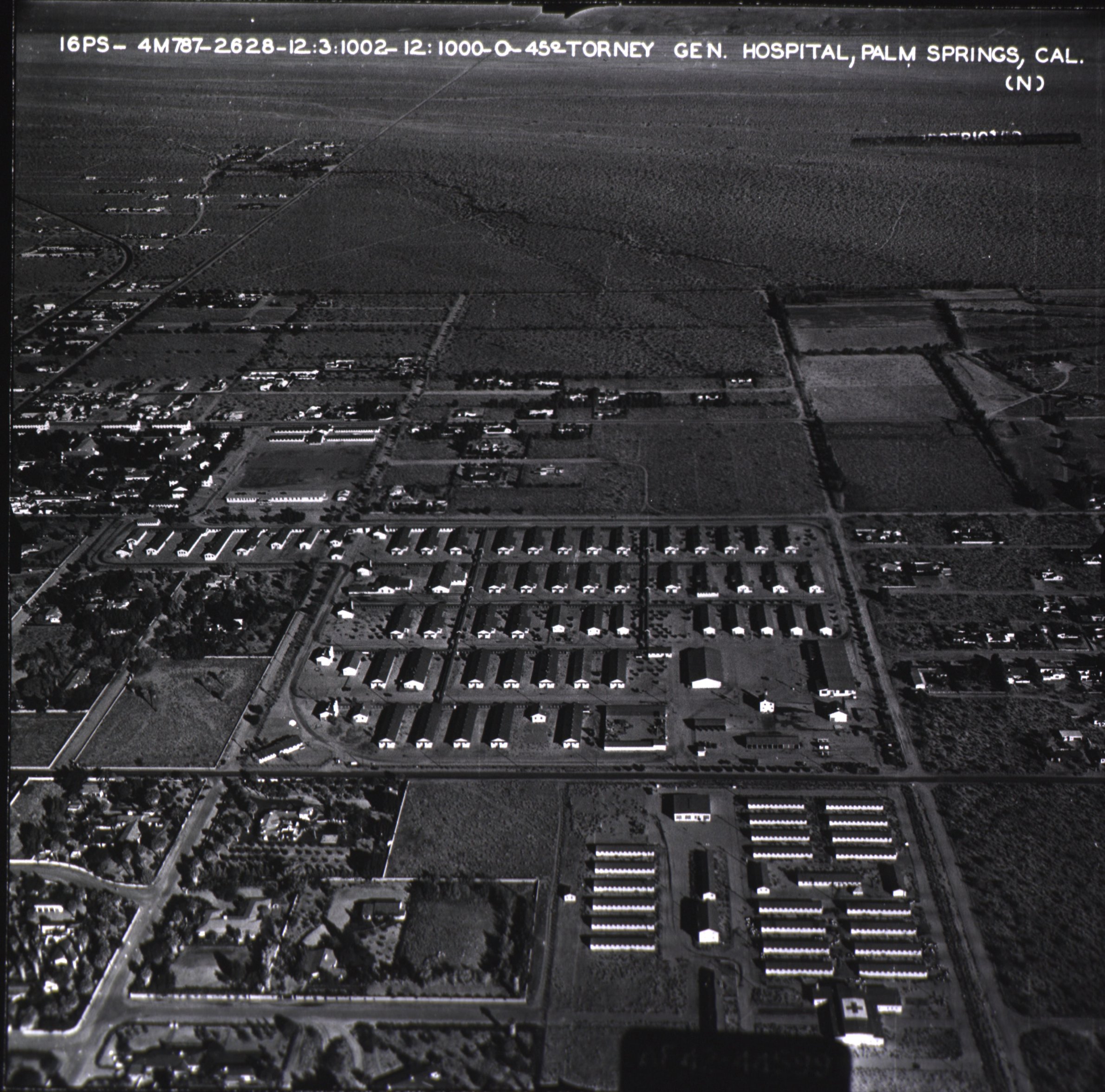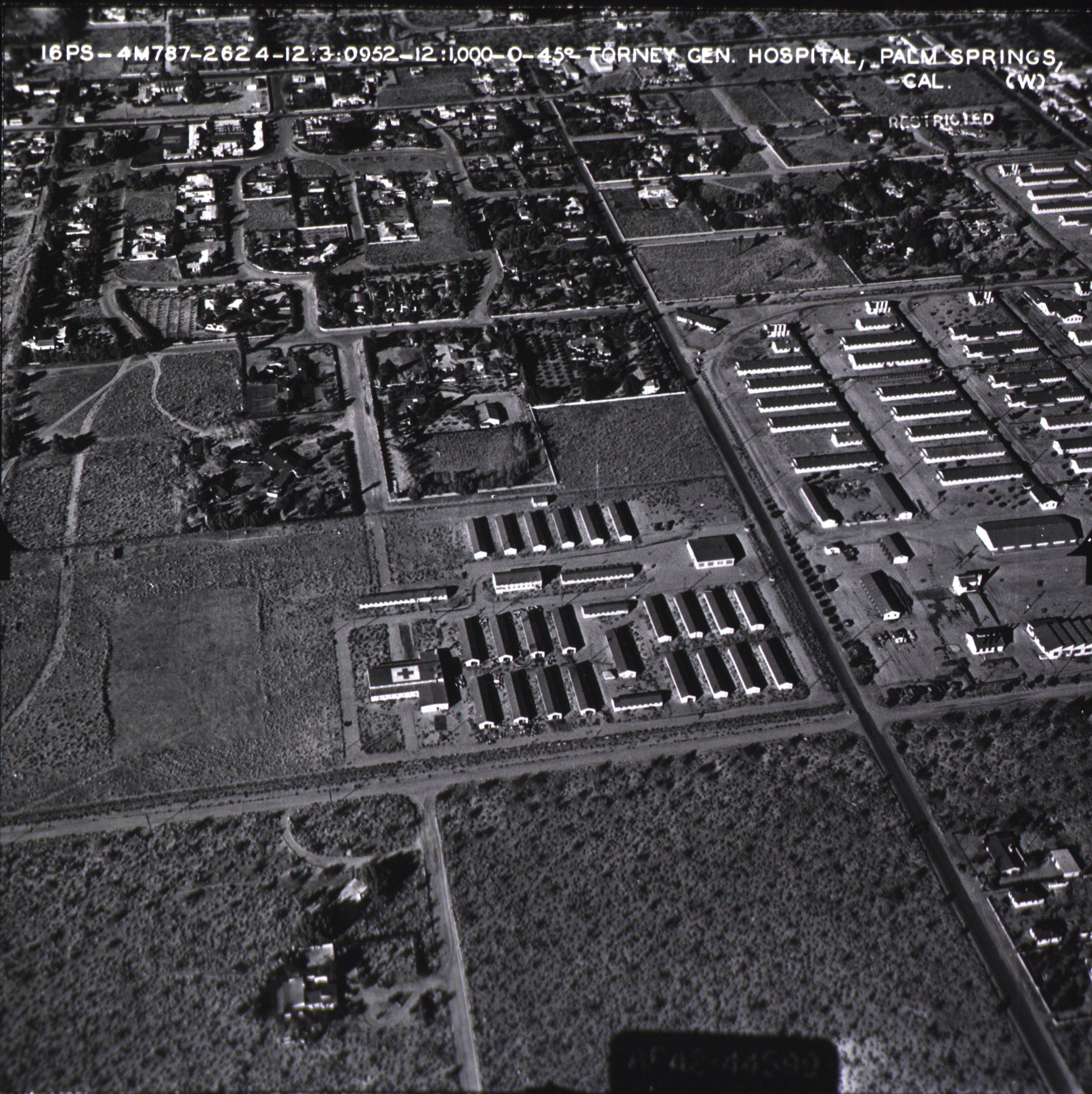 Extract, War Department Inventory of Owned, Sponsored and Leased Facilities, 1945

Torney General Hospital
Normal Bed Capacity:

Permanent Buildings: 493
Temporary Buildings: 1,416
Total: 1,909

Capacity:

Enlisted:

Permanent Buildings:
Mobilization Buildings:
Theater of Operations Buildings: 852
Hutments:
Tents:
Total: 852

Officers: 293

Acreage

Owned: 132 acres
Leased: 2 acres (2 leases)
Total: 134 acres

Storage:

Covered: 35,994 sq ft
Open:

Cost to Government Since 1 July 1940:

Annual lease payments: $254.00
Land: $519,090.00
Construction: $5,088,230.00
Total (less annual leases): $5,607,320.00

Remarks: Delared surplus 20 November 1945.
Army Units Assigned to Torney General Hospital

Data Source

Date(s)

Unit(s)

Army of the United States Station List
7 April 1945

Army Service Forces

22 General Hospital
737th and 742nd Sanitation Companes (Medical)(Colored)
1976th Service Command Unit (Station Complement)

Army of the United States Station List
7 April 1945

Army Service Forces

1976th Service Command Unit (Station Complement)
Detachment (Prisoner of War Branch Camp), 1967th Service Command Unit (Camp Haan)

Search our Site!
Questions and comments concerning this site should be directed to the Webmaster
Updated 21 April 2016