Californians and the Military

Admiral Richmond Kelly Turner

by Mark J. Denger

California Center for Military History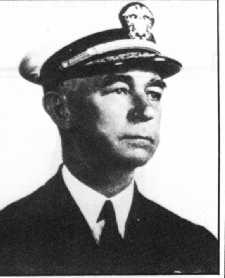 Admiral Kelly Turner was one of the central figures in the wartime and pre-war U.S. Navy, emphasizing carrier and amphibious warfare well in the early 1930s. The Japanese, during World War II, regarded him as "the alligator." He held command of various surface ships, and was naval aviator during his career. Above all else he was a Californian.
Admiral Richmond Kelly Turner was born on May 27, 1885 in Portland, Oregon. He was appointed to the United States Naval Academy and graduated in 1908. Passed Midshipman Turner was assigned first to the Pacific coast for a year , serving on three vessels: the reserve cruiser MILWAUKEE (C-21), the San Francisco tug ACTIVE (YT-14), and the reserve torpedo boat destroyer PREBLE (TBD-12), acting variously as executive officer, engineer and navigator. He then joined the armored cruiser WEST VIRGINIA (ACR-5) for cruises to Japan and throughout the Pacific, with promotion to ensign in June 1910, assigned to the STEWART (TBD-13) as executive officer and then commanding officer (1912-1913). Promoted to lieutenant (junior grade) in June 1913, and began postgraduate instruction in ordnance engineering at the Naval Academy at Annapolis, Maryland, followed by assignment to the Washington Navy Yard, which tour was interrupted by his participation in the Dominican Republic intervention during 1914 aboard the gunboat MARIETTA (PG-15). In June 1916 he became the turret officer and later assistant gunnery officer of the battleship PENNSYLVANIA (BB-38), the first of three wartime battleship assignments on the Atlantic coast, transferring to the MICHIGAN (BB-27) in September 1917, with the promotion to lieutenant that January, and assigned to the MISSISSIPPI (BB-41) in October 1918, with the promotion to lieutenant commander in December 1918.
Lieutenant Commander Turner served in the postwar period as ordnance design officer at the Washington Navy Yard (1919-1922) before reporting aboard the CALIFORNIA (BB-44) in the Pacific. His next assignment was the WYOMING (BB-32) in the Atlantic (1923-1924) before assuming command of the destroyer MERVINE (DD-322) in the Pacific, with promotion to commander in June 1925.
In 1927, at the age of 42, Commander Turner qualified as a pilot at Pensacola, Florida, and early the next year reported to the Asiatic Fleet as commander of its aircraft squadrons and their flagship, the tender JASON (AC-12). Turner then headed the General Board as technical air adviser to the 1932 Geneva disarmament conference and was executive officer of the carrier SARATOGA (CV-3) in the Pacific (1933-34), remaining on board as chief of staff to the Battle Force carrier commander, Admiral Henry V. Butler. He was promoted to the rank of captain while at the Naval War College in July 1935, remaining there as a member of the staff of Strategic Section, at the end of which assignment he elected to return to the line. In 1938 he assumed command of the heavy cruiser ASTORIA (CA-34). In October 1940 he became Director of the War Plans Division and was promoted to rear admiral the following January.
Upon America's entry into World War II in December 1941, he immediately assumed additional duty under U.S. Fleet commander Admiral Ernest J. King as assistant chief of staff. Thus, Admiral Turner played a key role in planning the Navy;s strategy for the war in the Pacific, particularly the amphibious aspect, leading to his appointment in July 1942 as Commander Amphibious force in the South Pacific.
During this period, he briefed Vice-Admiral Robert L. Ghormley prior to the latter's assignment to the South Pacific, then followed him as commander of amphibious forces, carrying out the landing a Guadalcanal, his flag on the transport McCAWLEY (AP-10). He retained this command under Halsey and advanced his forces through 1943 to Rendova Island. After losing his flagship there, he turned command over to Theodore Stark Wilkinson and left for Pearl Harbor, there receiving command over yet another amphibious force, this time the entire forces of Spruance's Fifth Fleet.
He and Marine Major-General Holland M. Smith formed a respectable team during the following operations at Betio, Makin, Majuro, Kwajalein, Roi and Namur. Following these successful though sometimes bloody operations, Turner was promoted to Vice-Admiral in March 1944, and became Commander Amphibious Forces Pacific, simultaneously retaining command of the Fifth Amphibious Force command until April 1945. In this rank, he led the attacks on Saipan, Tinian and Guam, attacks on which his own force moved flawlessly. His flagships during these operations were the PENNSYLVANIA, as CTF 52, ROCKY MOUNT (AGC-3) as CTF-51, and ELDORADO (AGC-11). Even though Admiral Turner played no part in the operations on Leyte, as this was MacArthur's operation, he used the time to plan for operations against Iwo Jima and Okinawa. At Iwo, his unwillingness to bombard the beaches throughly eventually led to a bloody campaign with major US losses. Operations against Okinawa proved equally difficult, but Turner's units beached the US ground troops without problems and Turner initiated destroyer picket operations to help repel Kamikazes.
Promoted to the rank of Admiral in May, 1945, Admiral Nimitz relieved Turner with Rear-Admiral Harry Hill, ordering Turner to plan for the projected landing on Kyushu, Japan, when the atomic bombs brought an end to the struggle. Relieved in October, Admiral Turner spent a month with the General Board and from December 1945 to July 1947, was U.S. Naval Representative on the United Nations Military Staff Committee at New York and London, England, a post he occupied until his retirement in 1952.
After the war, the death of his wife Harriet and illness left him little strength, and Turner died on February 13, 1961, at Monterey, California, of a coronary occlusion in 1961, six weeks after his wife. Kelly Turner is buried in the Golden Gate National Cemetery.

---
A Curious Compact Among Four Friends
By Lieutenant Colonel Norman S. Marshall

California Center for Military History

Four close friends, each being colleagues and co-workers before, during and after World War II, and each being a fellow Californian, rest together in the nearby Golden Gate National Cemetery at San Bruno, California.
The Golden Gate National Cemetery at San Bruno is located about two miles west of the San Francisco International Airport, and according to Admiral Richard Kelly Turner's biographer (1), Fleet Admiral Chester W. Nimitz arranged for this final resting place well before his death in 1966.
This is how Fleet Admiral Nimitz related how it came about that Kelly Turner is buried in the Golden Gate National Cemetery:
As you well know, BUPERS buries people. When I was CHBUNAV, Helen Hess, who handled all the Bureau's arrangement of funerals, said to me:

Why don't people plan ahead in connection with their burial?"

When I came to retire in the 12th Naval District, I remembered her remark and looked around. I found the Presidio Burial Grounds filled. I went out to the golden Gate Cemetery at San Bruno, and the caretaker there said, 'I have just the place for you, a high spot in the center of the cemetery.' I wrote to Admirals Spruance and Turner and asked them if they were interested in being buried at the apex of the war dead in the Golden Gate Cemetery. When Harriet Turner became very ill, Kelly wrote to me and said, 'Is the offer still good?' I said it was and she was buried there and Kelly soon followed.
On 13 September 1952, Fleet Admiral Chester Nimitz wrote to the Chief of Naval Personnel:
While I fully understand and appreciate the decision of the Quartermaster General to make no grave site reservations in the Golden Gate National Cemetery for other officers, I earnestly request that Admiral Raymond A. Spruance, USN (Retired), and Admiral R. K. Turner, USN (Retired) upon their deaths be given grave sites adjoining those which have been reserved for Mrs. Nimitz and me. This request is made because I firmly believe that our success in the Pacific during World War II was due in a very large measure to the splendid service rendered the Nation by these two officers, and it is fitting that they enjoy the same privilege granted to me in choosing their final resting place close to the Service personnel who died in the Pacific."
Fleet Admiral Chester W. Nimitz (U.S. Naval Academy, 1905) had long worked with Admiral Raymond Spruance (U.S. Naval Academy, 1906) and made him the air boss at Midway. He was the pre-eminent carrier strategist of the Pacific. Turner (U.S. Naval Academy, 1906) won Nimitz' admiration for leading amphibious groups throughout the Pacific during the war and Charles Lockwood (U.S. Naval Academy, 1908) was a submariner, like Nimitz, and became Commander Submarine Force, Pacific (COMSUBPAC) in February 1943 which force crushed the Japanese Merchant Fleet.
Nimitz had enormous respect and appreciation for each of these men and wanted them all to be together. They had been friends and shipmates for forty years. Their wives had been supportive and friends also.
Thus, their grave sites perfectly aligned in the first row along the street bearing Nimitz's name –Nimitz Drive. This is a unique tribute to each of these Californians.
Footnotes
(1) Dyer, George, The Amphibians Came to Conquer, Superintendent of Documents, U.S.G.P.O. (1997)
Search our Site!
Questions and comments concerning this site should be directed to the Webmaster
Updated 8 February 2016