Californians and the Military

Vice Admiral Charles A. Lockwood, Jr.

by Chief Warrant Officer Mark J. Denger

California Center for Military History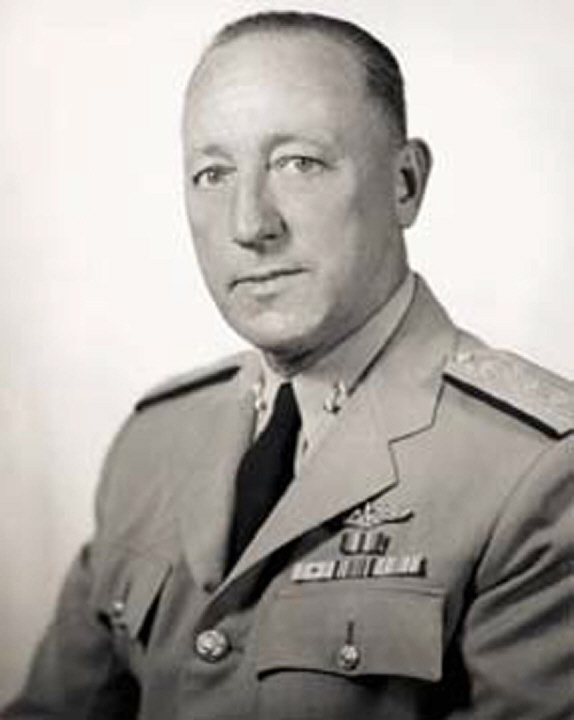 Top submarine leader in the war against Japan, Vice Admiral Charles Andrews Lockwood, Jr., will forever be known in submarine history as the legendary Commander Submarine Force Pacific Fleet (COMSUBPAC) who led the silent service to victory during World War II in the Pacific.
Born in Midland, Virginia, on 6 May 1890, Charles Andrews Lockwood, Jr., graduated from the U.S. Naval Academy in 1912. He first served in the Atlantic aboard the battleships MISSISSIPPI (BB-23) and ARKANSAS (BB-33) (1912-1913). Following these brief cruises in battleships, and a short tour as instructor in the Naval Training Station, Great Lakes, in September 1914, he reported to the tender MOHICAN (SP-117) for indoctrination in submarines. In December 1914, Lockwood, at Cavite, Philippines, was assigned command of the submarine A-2 (SS-3) (1914-1917) as well as the B-1 (SS-10) (1916-1917).
America's entry into World War I found him in command of First Submarine Division, Asiatic Fleet, flagship the monitor MONADNOCK, which he also commanded from September 1917 until detached the following April.
After commanding the G-1 (SS-19) at New London, Connecticut, and the N-5 (SS-57) at New York (1918-1919) and took command of the captured German minelaying submarine UC-97 from March 1919 to August 1919. The ex-German submarine UC-97 was used to evaluate the capabilities of German submarine equipment. Lieutenant Commander Lockwood outfitted, commissioned, and commanded two new submarines: the R-25 (SS-102) in the Atlantic and Caribbean (1919-1920) and the S-14 (SS-119), before serving on the Yangtze Patrol aboard the gunboat QUIROS (PG-40) (1922-1923) and ISABEL (PY-10), on the latter as flag lieutenant to Patrol commander Admiral William W. Phelps (1923), for the ensuing year on that station successively as commanding officer of the ELCANO (PG-38), executive officer of the destroyer PERRY (DD-226), and commander of the SMITH THOMPSON (DD-212) before assuming command of Submarine Division 13, on the Eastern Pacific (1925-1928). Here he took command of the submarine V-3 (SS-163) from May 1926 to December 1928. He was then assigned as an advisor to the Brazilian Navy on submarines (1929-1931). In 1931 he served as first lieutenant aboard the battleship CALIFORNIA (BB-44) in the Pacific (1931-1932) and as navigator and executive officer of the cruiser CONCORD (CL-10) (1932-1933).
In 1935, following an assignment to the Naval Academy as a teacher of seamanship (1933-1935), Lockwood returned to submarines, assuming command of Submarine Division 13, flagship CUTTLEFISH (SS-171), on the West coast (1935-1937). In 1937 he was assigned to the Office of the Chief of Naval Operations (1937-1939) where he worked on submarine matters before being assigned as chief of staff to U.S. Fleet Submarine Commander Admiral Wilhelm L. Friedell, flagship RICHMOND (CL-9), in the Pacific (1939-1941).
During World War II, Rear Admiral Lockwood served in the thick of action, as U.S. Naval Attache to Great Britain from February 1941 to March 1942 and in May 1942, the month after he became Commander Submarines, Southwest Pacific, from April 1942 until February 1943, he was promoted to the rank of rear admiral. Following the death of Rear Admiral Robert H. English in December 1942, Lockwood shifted his flag to Pearl Harbor, replacing temporary ComSubPac Captain John H. Brown in February 1943.
The following is quoted directly from the Navy Office of Information concerning Lockwood's Distinguished Service Medal:
"For exceptionally meritorious service as Commander Submarine Forces, Pacific Fleet, from February 1943 to September 1945. A forceful leader, professionally skilled in the performance of a vital assignment, vice Admiral Lockwood was responsible for the strategic planning and tactical execution of submarine operations which culminated in the sinking by the forces under his command of over one thousand hostile ships, including one battleship, seven aircraft carriers and five cruisers, and in the damaging of more than five hundred additional ships. Rendering distinguished service in support of vital amphibious operations in the forward areas of the Pacific, Vice Admiral Lockwood also contributed to the development and effective employment of new weapons of extreme advantage to the Allied cause."
During his tour as Commander Submarine Force Pacific, Rear Admiral Lockwood improvised tactics to make the most effective use of submarines and pushed the Navy's Bureaus of Ships and Ordnance to provide his men with the most effective submarines and torpedoes possible. He oversaw the tests that proved early U.S. torpedo unreliability and prompted the improvements that made them the highly effective weapons they became in 1944 and 1945. U.S. submarines sank more than 5.6 million tons of enemy shipping including more than 1,100 merchant ships and over 200 warships. U.S. submarine attacks on enemy shipping accounted for more than fifty percent of enemy ships lost during the war. Of the 15,400 U.S. submariners in the war, 375 officers and 3,131 enlisted men on fifty-two submarines were lost.
Lockwood was awarded a Gold Star in lieu of Second Distinguished Service Medal:
"...as Commander Submarine Force, Pacific Fleet, from January to September 1945...(He) readily foresaw the possibilities and advantages of invading and ravaging the Sea of Japan during the closing months of the war and, through his sound judgment and professional skill in laying the groundwork and developing the plans for this extensive operation, was in large measure responsible for the successful penetration of his submarines through the minefields of Tsushima Straits and into Japanese home waters where over 50 ships and many smaller vessels were sunk along the last lifeline to the Asiatic Mainland....he brought his gallant command to the peak of combat efficiency in support of the Allied offensives against Iwo Jima and Okinawa...(and) contributed materially to the success of our sustained drive to force the capitulation of the Japanese Empire...."
On September 1, 1945, Rear Admiral Lockwood was present with Fleet Admiral Chester W. Nimitz, USN, on board the USS MISSOURI in Tokyo Bay for the formal signing of the Japanese surrender. Lockwood's strong leadership and devotion to his troops won him the nickname "Uncle Charlie."
In October 1943, Lockwood was promoted to Vice Admiral, moving Pacific Fleet headquarters to Guam early in 1945 until he was relieved on December 18, 1945 and ordered to duty as Naval Inspector General, Office of the Chief of Naval Operations, Navy Department, Washington, D. C. On June 30, 1947, he was relieved of all active duty pending retirement, and was transferred to the Retired List, effective September 1, 1947.
Upon his retirement, he returned home to Los Gatos, California, were he wrote his wartime memoirs "Sink 'Em All" (1951) and autobiography "Down to the Sea in Subs" (1967), as well as co-authoring a number of submarine and war histories including "Hell Cats of the Sea" (1955) and "Hell at 50 Fathoms" (1962), the movie "Hell Cats of the Navy", staring Ronald Reagan and Nancy Davis, was based on his 1955 book.
As for the men who served under his command Lockwood wrote in his book, Sink 'Em All:
"They were no supermen, nor were they endowed with any supernatural qualities of heroism. They were merely top-notch American lads, well trained, well treated, well armed and provided with superb ships. May God grant there will be no World War III; but, if there is, whether it be fought with the weapons we know or with weapons at whose type we can only guess, submarines and submariners will be in the thick of the combat, fighting with skill, determination and matchless daring for all of us and for our United States of America."
Vice Admiral Charles A. Lockwood died on June 6, 1967. He is buried at the Golden Gate National Cemetery, San Bruno, California.



A Curious Compact Among Four Friends
By Colonel Norman S. Marshall

California Center for Military History

Four close friends, each being colleagues and co-workers before, during and after World War II, and each being a fellow Californian, rest together in the nearby Golden Gate National Cemetery at San Bruno, California.
The Golden Gate National Cemetery at San Bruno is located about two miles west of the San Francisco International Airport, and according to Admiral Richard Kelly Turner's biographer (1), Fleet Admiral Chester W. Nimitz arranged for this final resting place well before his death in 1966.
This is how Fleet Admiral Nimitz related how it came about that Kelly Turner is buried in the Golden Gate National Cemetery:
As you well know, BUPERS buries people. When I was CHBUNAV, Helen Hess, who handled all the Bureau's arrangement of funerals, said to me:

Why don't people plan ahead in connection with their burial?"

When I came to retire in the 12th Naval District, I remembered her remark and looked around. I found the Presidio Burial Grounds filled. I went out to the golden Gate Cemetery at San Bruno, and the caretaker there said, 'I have just the place for you, a high spot in the center of the cemetery.' I wrote to Admirals Spruance and Turner and asked them if they were interested in being buried at the apex of the war dead in the Golden Gate Cemetery. When Harriet Turner became very ill, Kelly wrote to me and said, 'Is the offer still good?' I said it was and she was buried there and Kelly soon followed.
On 13 September 1952, Fleet Admiral Chester Nimitz wrote to the Chief of Naval Personnel:
While I fully understand and appreciate the decision of the Quartermaster General to make no grave site reservations in the Golden Gate National Cemetery for other officers, I earnestly request that Admiral Raymond A. Spruance, USN (Retired), and Admiral R. K. Turner, USN (Retired) upon their deaths be given grave sites adjoining those which have been reserved for Mrs. Nimitz and me. This request is made because I firmly believe that our success in the Pacific during World War II was due in a very large measure to the splendid service rendered the Nation by these two officers, and it is fitting that they enjoy the same privilege granted to me in choosing their final resting place close to the Service personnel who died in the Pacific."
Fleet Admiral Chester W. Nimitz (U.S. Naval Academy, 1905) had long worked with Admiral Raymond Spruance (U.S. Naval Academy, 1906) and made him the air boss at Midway. He was the pre-eminent carrier strategist of the Pacific. Turner (U.S. Naval Academy, 1906) won Nimitz' admiration for leading amphibious groups throughout the Pacific during the war and Charles Lockwood (U.S. Naval Academy, 1908) was a submariner, like Nimitz, and became Commander Submarine Force, Pacific (COMSUBPAC) in February 1943 which force crushed the Japanese Merchant Fleet.
Nimitz had enormous respect and appreciation for each of these men and wanted them all to be together. They had been friends and shipmates for forty years. Their wives had been supportive and friends also.
Thus, their grave sites perfectly aligned in the first row along the street bearing Nimitz's name –Nimitz Drive. This is a unique tribute to each of these Californians.
Footnotes
(1) Dyer, George, The Amphibians Came to Conquer, Superintendent of Documents, U.S.G.P.O. (1997)
Search our Site!
Questions and comments concerning this site should be directed to the Webmaster
Updated 8 February 2016